Connecting over the Internet (attended-only)
For spontaneous remote support, you can use Agent instead of Host. Unlike Host, Agent doesn't require installation and administrative privileges to run. However, Agent does require someone being present at the remote PC side to actually start the Agent, so this connection method is suitable for attended support only.
The Agent window can be customized with your logo and welcome text. For more information, see the Agent customization tutorial.
Configuring Agent
No special Agent configuration is needed. Have the remote user run it and tell you the Internet-ID code and access password shown in the Agent window:
Make sure that the "Ready for connection" message is displayed at the bottom of the Agent window.
Configuring Viewer
1. On your admin PC start the Viewer app and click Add connection: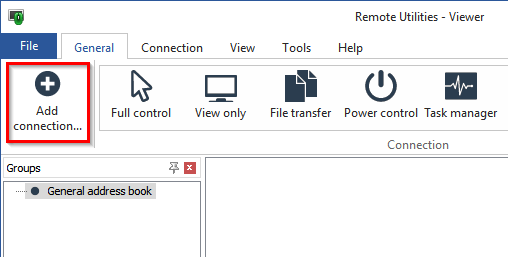 2. Enter a descriptive name and the Internet-ID displayed on the Agent window. Click OK: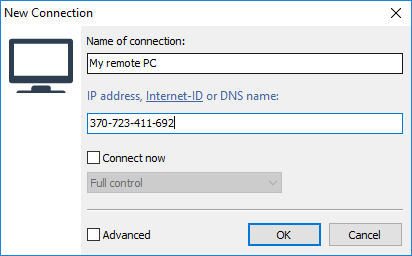 3. Enter the Agent password at the password prompt and click OK:
4. The remote session will start in the selected connection mode. In this example it's the Full Control mode: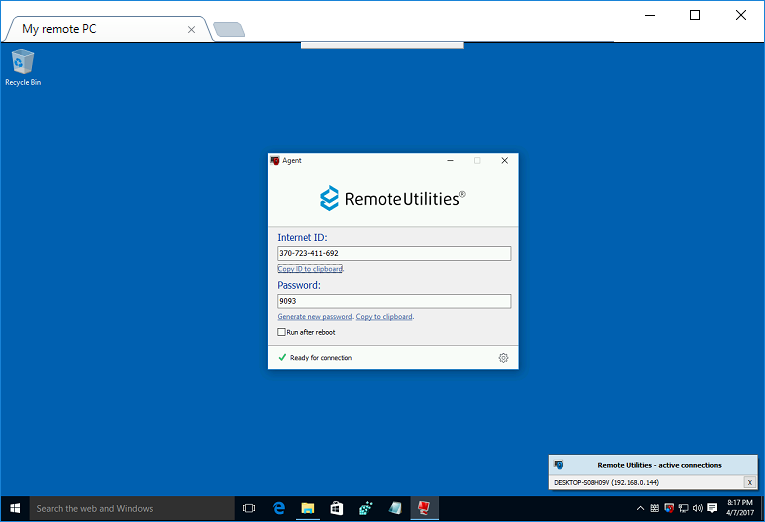 5. The connection will be saved to your address book automatically: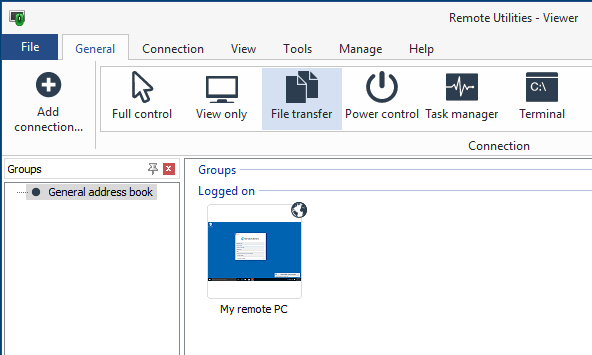 Tips
If you have difficulty making the connection work, please check this troubleshooting guide.
In order to terminate the session at any moment, the remote user simply needs to close the Agent window.
The remote user doesn't have to re-download the Agent each time they need remote support. They can keep the Agent file on their computer and run it when necessary.