Text Chat
The Text Chat mode allows you to exchange text messages with remote users.
Starting Text Chat mode
On the General tab select Chat and double-click on a connection in your address book: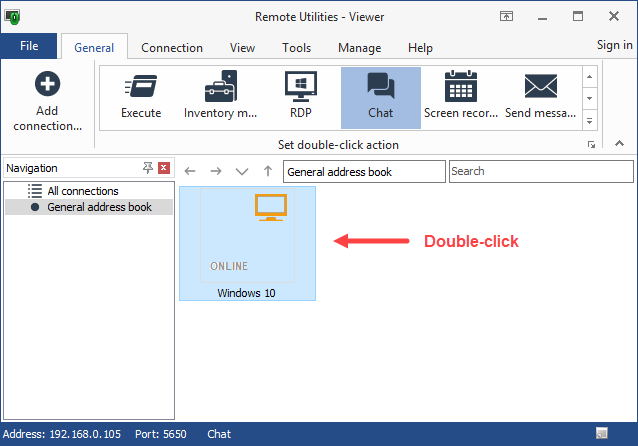 Alternatively, right-click on the connection icon and select Other modes → Chat from the menu: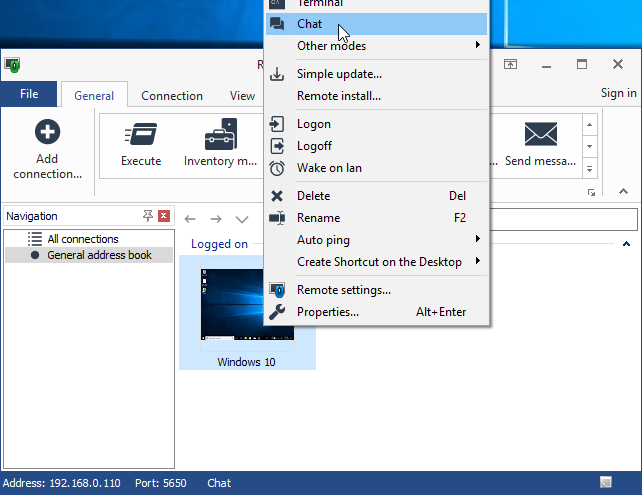 Enter the access password and click OK:

A chat window will open: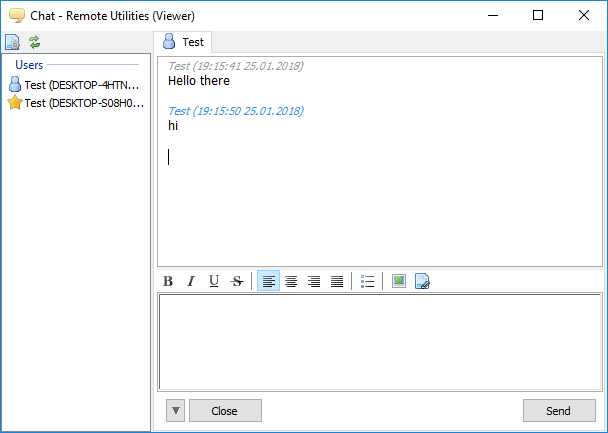 Enter your message in the text field and click Send or press <Enter>.
Users and channels
There are two kinds of users in the Chat mode:
| | |
| --- | --- |
| | — Administrators who enter the chat on the Viewer side. Administrators can initiate a chat session. |
| | — Regular users who enter the chat on the Host or Agent side. |
Channels are chat sessions with individual users. There is a special channel called #General — messages sent in this channel are visible to all users:
To start a chat session with an individual user, double-click the user name in the list. A new tab with individual chat session will open:
Changing nickname
To change your chat nickname:
Click the Settings icon ( ) at the top left corner of the Text Chat window.
Uncheck the Current user name as nickname check box and enter a desired name:
Sending images and files
You can send images and files to other participants:
Click Insert image or Insert file on the toolbar in the text chat window:
Select the file on your local disc and click Send:
The file will appear in the chat for the recipients to download.
Important!
By design, the Insert image command only works for images in the BMP format. To send images in other formats use Send file instead.
Mini-chat
Mini-chat is a simplified text chat which opens alongside the Full Control and View window. Learn about the mini-chat here.