Viewer
Overview
Viewer is a single "command center" used by a support technician/admin. The Viewer is where you keep your connection list, start a remote session and manage your licenses. The built-in tools such as Remote Install, MSI Configurator, Host Scanner, Address Book Manager and License Key Storage are all launched from within the Viewer.
Viewer runs in a trial mode for 30 days until you add a valid license or until the trial period ends. Learn more about registration.
Tip
You can run a portable version of the Viewer from a USB stick. This version doesn't require installation. Download the portable Viewer from the download page.
Main window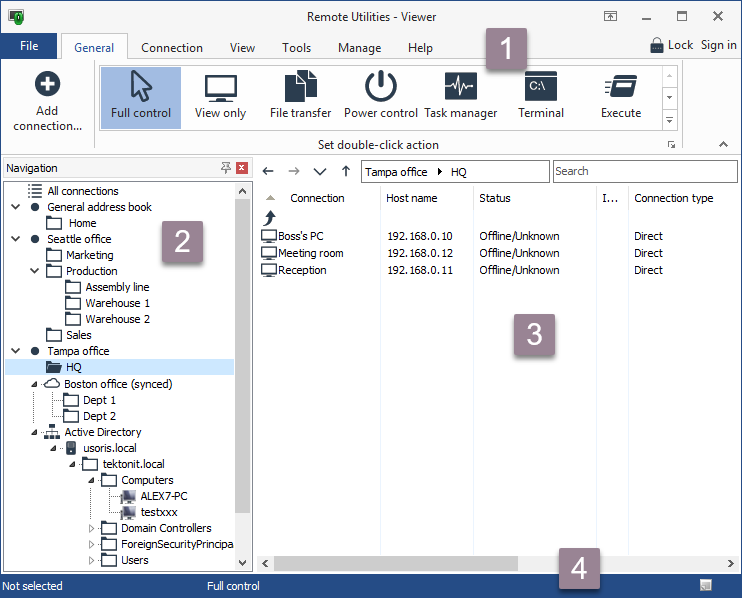 The main window has the following parts:
1

Ribbon toolbar This toolbar contains all the program commands spread across five tabs.

2

Groups pane Connection entries can be grouped into folders shown on the Groups pane. If the Viewer PC is located in an Active Directory network, the Groups pane automatically retrieves the AD tree.

3

Contents pane The contents of the folder selected in the tree is shown here. The Groups pane and the Contents pane together constitute what is called an address book

4

Status bar This bar shows preview information about the objects selected in the Contents pane.
General tab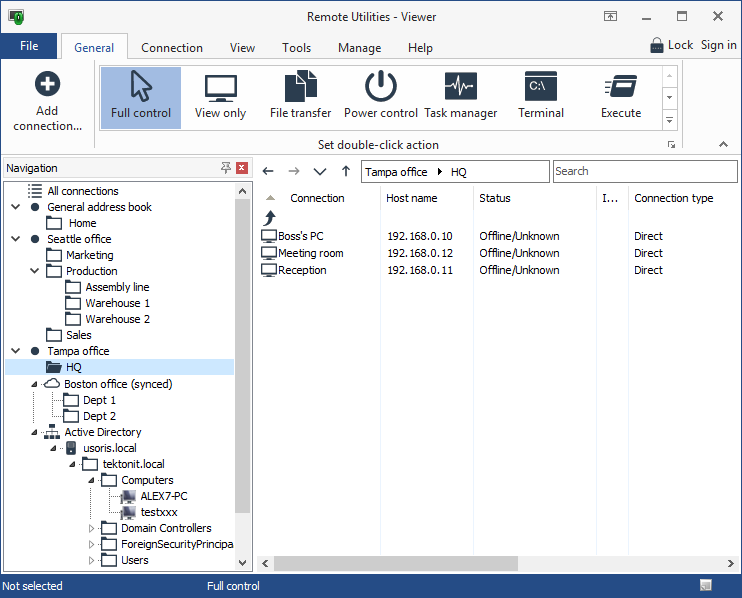 Add Computer Click to add a new connection to the address book
Connection mode buttons Used to start a remote session in one of the available connection modes
Connection tab
Add Computer Click to add a new connection to the address book
Add using code Paste a special code to add remote computer's ID and password from an e-mail message
Delete Delete selected connection
Rename Rename selected connection
Logon Get into the logged on state
Logoff Exit the logged on state
Refresh status Refresh status of visible connections
Relogon connections Relogon visible connections
Ping Ping visible connections
Wake on LAN Invoke WOL command for a selected connection
View tab
Update previews Update thumbnail previews
Show groups Show/hide the Groups pane
Show event log Open the Connection Log panel
Reset panels Reset panels to default layout
Thumbnails Switch to thumbnail view (in this view remote screen previews are shown as thumbnails)
Large icons Switch to large icons view
List Switch to list view
Details Switch to list view with details shown for every connection record
Change preview size Use the slider to change the visible size of previews in the Thumbnail view
Tools tab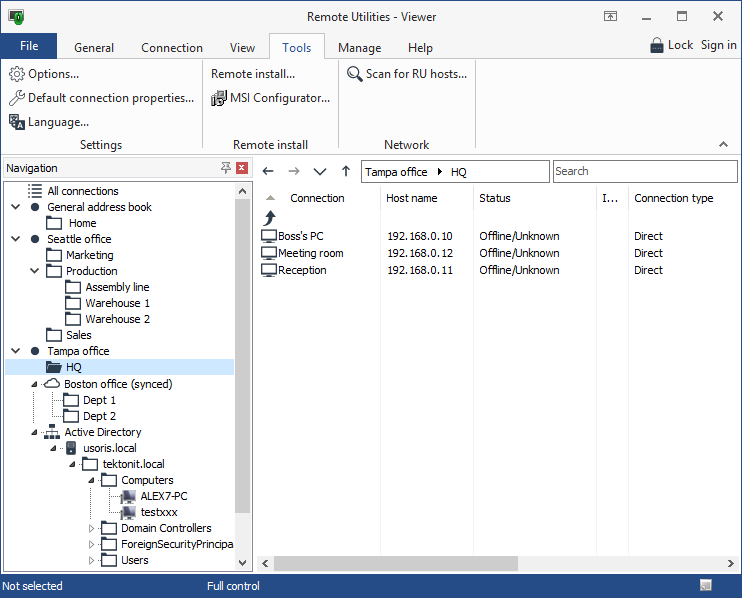 Options Open Viewer's global options
Default connection properties Set default properties for all newly-created remote connections
Language Select program language
Address book manager Open the Address Book Manager
Import connections Import connections from an external address book
Export connections Export connections to an xml file
Help tab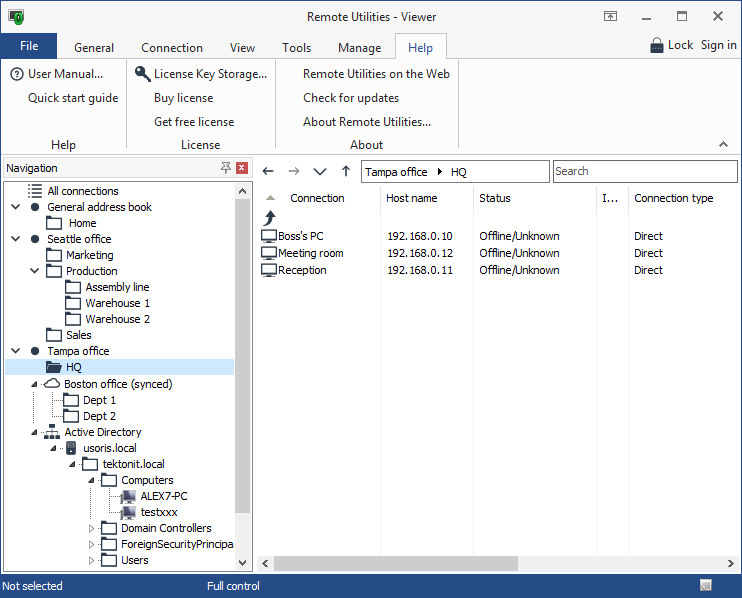 RU help This documentation
License Key Storage Run the License Key Storage tool
Purchase Enterprise Key Purchase a commercial license
Get License Key for Free Get a free license key for 10 PC for business and personal use
Remote Utilities on the Web Visit program website
Check for updates Check for new versions of Remote Utilities
About Remote Utilities Show details about the program copy currently installed