Logon and Logoff
Being logged on to a remote PC allows you to keep connection alive without actively using any of the connection modes.
When in the logged on state, the connection thumbnail shows a remote screen preview. You can also invoke an advanced hint window if you hover your mouse pointer over the thumbnail.
Important!
Remote Utilities logon has nothing to do with Windows logon. You can be logged on to a remote PC regardless of whether there is any Windows user actually logged on to the system or not.
Logging on/off
To log on to a remote PC:
Select a connection or multiple connections in the address book. On the Connection tab click Logon: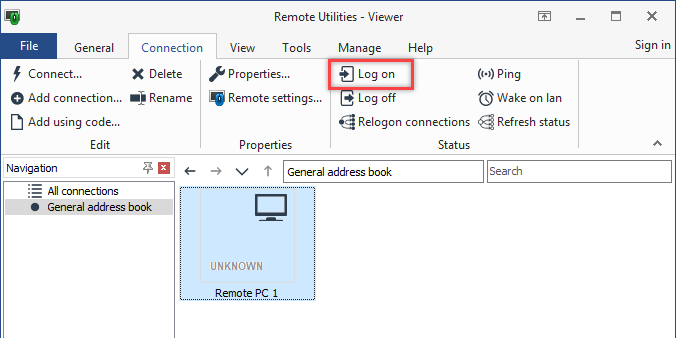 Enter the access password for the remote Host and click OK:

Wait until you get authenticated on the remote Host:
You might have a different authentication method enabled on the remote Host in which case the authentication prompt will differ from the above.
The connection icon will change to the Logged On status (learn about statuses):
In a short while the connection thumbnail will start displaying a preview of the remote screen: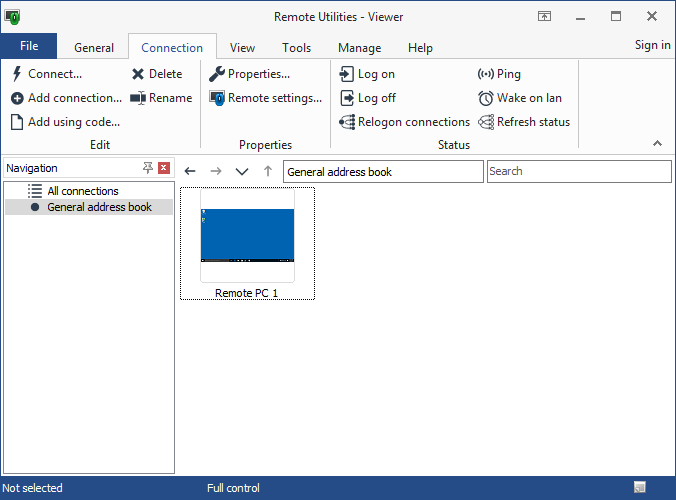 Tip
To disable previews on the thumbnails, uncheck the Update thumbnails checkbox on the View tab in Viewer options.
To log off, select a connection in the address book and click Logoff on the toolbar.
Automatic logon
You can set the Viewer to automatically log on to remote PCs.
Right-click the connection icon and select Properties from the menu: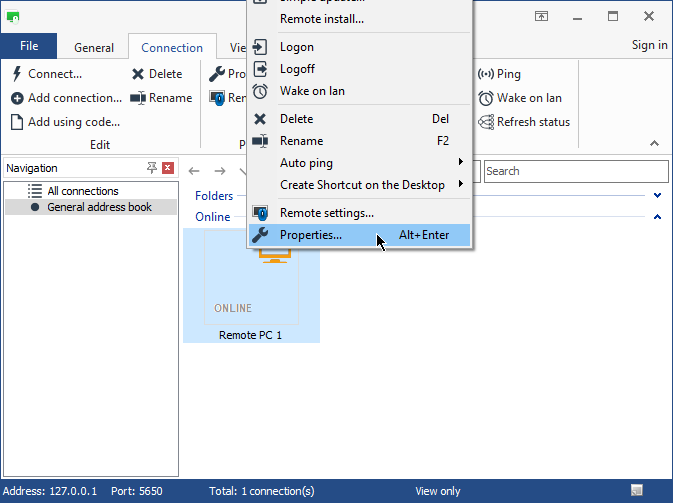 Select the Security section and enable Auto-logon:
Important!
Currently, Auto-logon only works with direct connections as well as with Internet-ID connections established through the self-hosted server. The Auto-logon option will not work for Internet-ID connections that use our public Internet-ID server.
Re-logon command
The Relogon connections command makes all the connections in your address book to re-log on. This command will only apply to connections that meet ALL the of the following criteria:
The Auto-logon option enabled (see above);
Access password saved.
To initiate a re-logon in the Viewer, navigate to the Connection tab and click Relogon connections: