Registering Remote Utilities
The Viewer module works in trial mode for 30 days. In order to use the program beyond the 30-day trial period, you must register the Viewer with a valid license key.
Important!
The remote modules — Host and Agent — do not require registration.
If you work from multiple Viewers you must add the key to each Viewer.
Video tutorial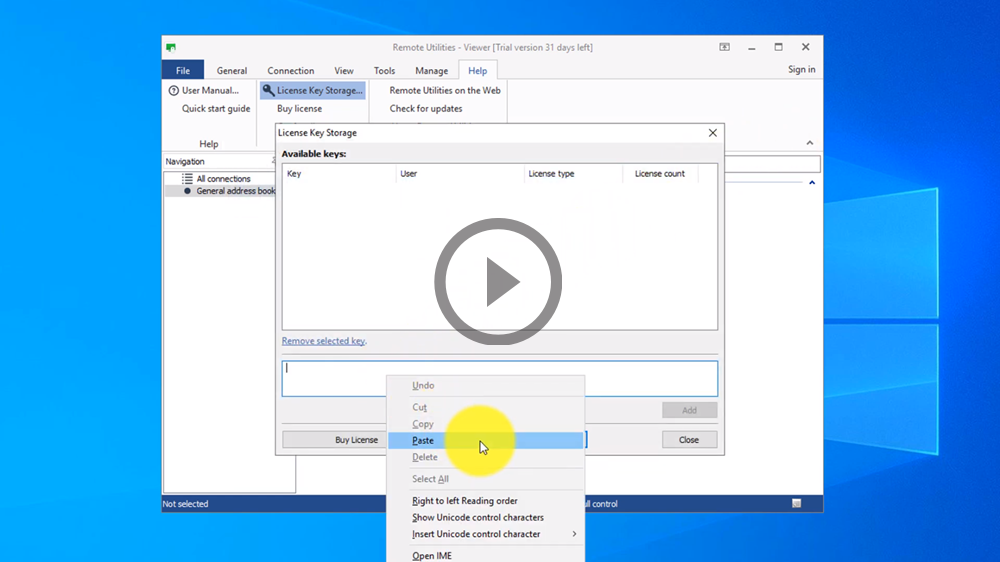 Registering the program
Select the Help tab and click License Key Storage:
The License Key Storage window will open:
Paste your license key in the field below and click Add:
The license key will be added to the License Key Storage. Details such as the owner name, license type and license count are shown for each key:
Click Close. The Viewer has been registered.
Important!
You can add multiple keys to the storage. Learn how multiple keys in the storage work.
License count
For the FREE and ENDPOINT license, the license count means the allowed total number of endpoints which are represented as records in your address book loaded in the Viewer.
For STARTER, MINI and PRO licenses the license count means the number of techs who can work simultaneously with the license key. The number of address book records each tech can have is determined by the license type - for example, the STARTER license allows 20 endpoints per tech.
For more information on Remote Utilities licensing see license comparison.