Admin Console: Main window
Admin Console is a GUI dashboard that lets you administer your Server, set up server roles (relay, sync and authentication) and monitor Viewer and Host activity on the Server.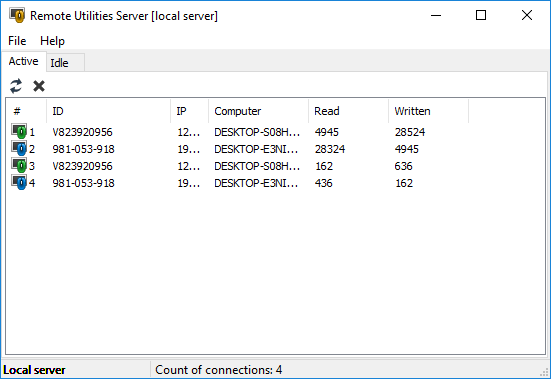 To open Admin Console, click its icon (

) in the system tray:

Alternatively, you can open the Windows Start menu and select Remote Utilities Server ➝ Administration.
Admin Console interface
File menu
Connect... — open a connection dialog.
Address book manager... — open the server's address book manager utility.
Server configuration... — open Configuration window.
Select language... — select program interface language.
Update... — check for updates.
Exit... — close Admin Console. The Server's service will still be running.
Active tab
The Active tab shows Viewers and Hosts that are currently using this server for a remote session.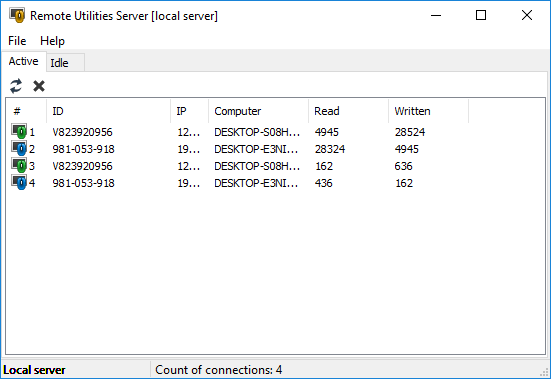 Idle tab
The Idle tab only shows listening Hosts, i.e. no active remote session is established with the Hosts on the Idle list.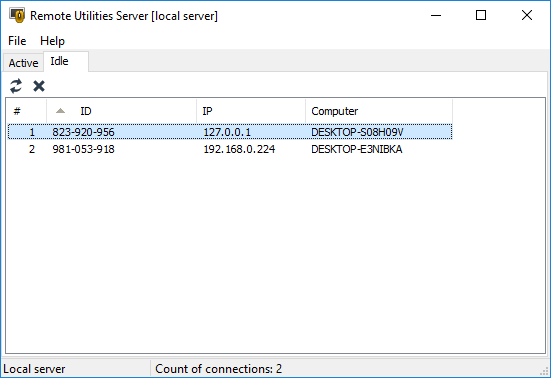 Connecting from Admin Console to the service
RU Server uses a "client-server" architecture meaning that there are two parts to the program: Admin Console (client) and the service (server, the core of the program). You must connect to the service from Admin Console which is used as a dashboard to manage the service.
Local (named-pipe) connection
When the Server installation is finished both components start automatically and Admin Console connects to the service running on the same computer. The Admin Console title bar will read "local server":
If you have disconnected for some reason or just want to change connection type, click File ➝ Connect.. to open connection window: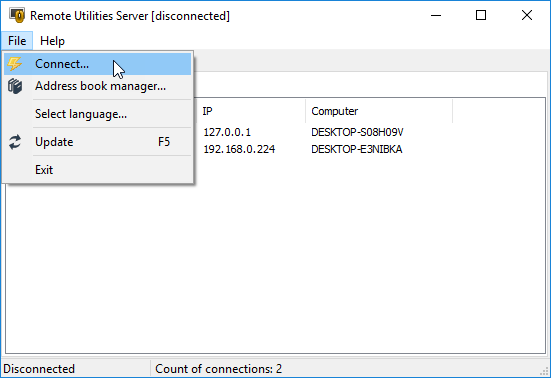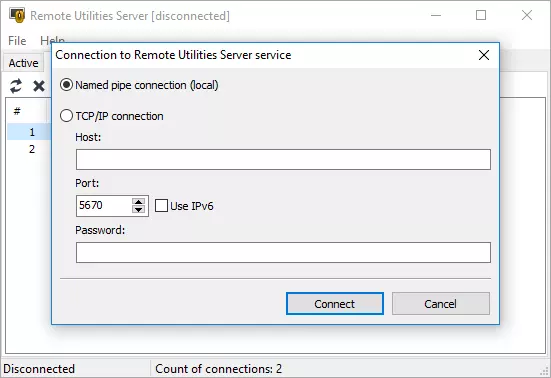 Named pipe connection (local) — connect to the service installed on the same PC.
TCP/IP connection — use TCP/IP connection to connect to the service on a different PC.
Host — an IP address or hostname.
Port — port used for TCP/IP connection.
Password — required if TCP/IP connection is used.
Remote connection
You can connect from Admin Console to a server service installed on another computer. During RU Server installation you have an option to install Admin Console only: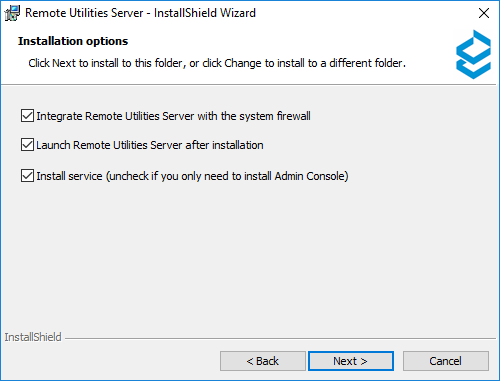 To establish a remote connection from Admin Console to the service, first enable remote connection in the service settings:
On the computer where the service is running, click Windows Start menu and select Remote Utilities Server → Configuration.
In the configuration window enable Allow TCP/IP connection and create a password:
Click OK to close the configuration window.

Important

If you cannot connect to the service, make sure that you have restarted the service computer after RU Server installation.
On the Admin Console computer from which you want to connect to the server:
Open Admin Console, select File → Connect:
In the connection dialog, enable TCP/IP Connection, enter the service computer IP address or DNS name and the access password that you set in the configuration window. Click Connect:
If connection is successful the Admin Console title bar will show the IP address/DNS name of your server computer: