File Transfer
The remote File Transfer mode allows you to quickly and securely copy files and folders to and from a remote computer. This file sharing mode can be run during a regular remote access session from within the Full Control and View mode (see toolbar) or run immediately from the main Viewer interface as described below.
Starting File Transfer mode
On the General tab select File Transfer and double-click on a connection in your address book:
Alternatively, right-click on the connection icon and select File Transfer from the menu: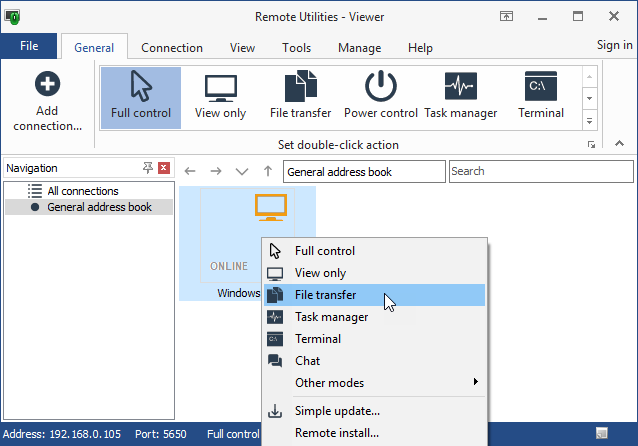 Enter the access password and click OK:

A File Transfer mode window will open: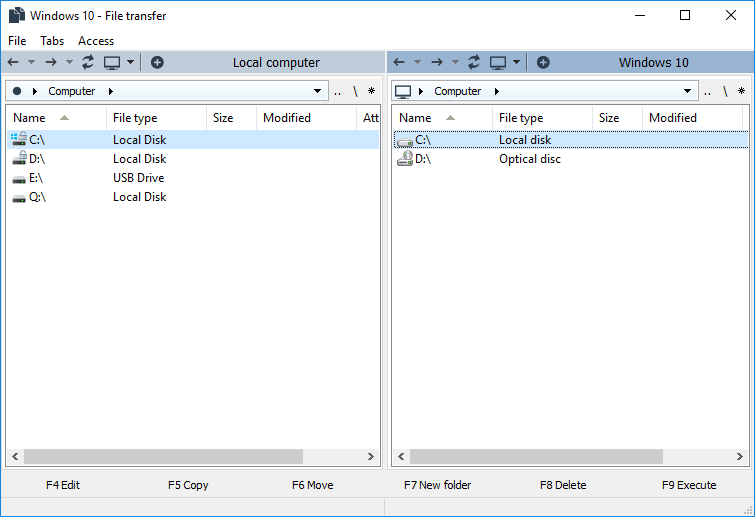 Copying or moving files and folders
To copy or move a file or folder to a remote desktop:
Open the source folder in one pane and the destination folder in the other pane.
Select the file or folder you want to copy/move, right-click on it and select Copy or Move:
Using tabs
You can use tabs to open several remote devices side by side in the same File Transfer window. To open another remote connection in a new tab, click on the plus icon and select the target connection from your address book: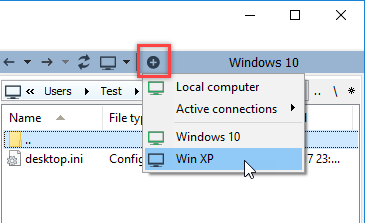 The connection will open as a new tab on the tab bar: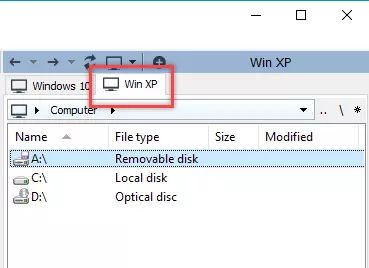 Main menu
File menu
This menu contains commands that you can apply to files and folders selected in the File Transfer window. You can access the same commands by right-clicking on files and folders in the list. The Quit command closes the File Transfer mode.
Tabs menu
The commands in this menu apply to either a selected tab or to all open tabs.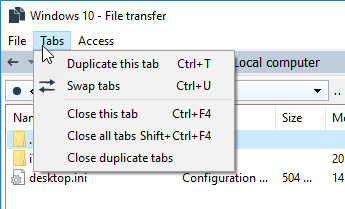 Access menu
Use the access menu to switch from Current user to System account if you have issues copying/moving files to the remote PC.
Bookmarks
You can add frequently-used folders to your bookmarks:
In the left pane click the asterisk button and select Add current dir:
The Bookmark window will open. Enter the bookmark title and path and click OK:
To open a previously-added bookmark click the asterisk button and select the bookmark from the list:
Hot keys
You can access frequently-used commands at the bottom of the File Transfer window. To run a command, either click on it or press the associated F4 - F9 key on the keyboard.

Drag and drop
You can drag files and folders (both local and remote) from the File Transfer window and drop them on to a target location on the local computer or vice versa.
Smart download resumption
If the file download was interrupted, the download will resume automatically the next time you initiate a remote control session.