Quick Start Guide
This guide gives you the basics about the program and helps you set up your first remote connection. For complete information on available features, please refer to the documentation.
About Remote Utilities
The program consists of two stand-alone modules — Viewer and Host.
Viewer
The Viewer is installed on the computer you use to connect to remote computers. Throughout this guide we will call this computer your admin PC.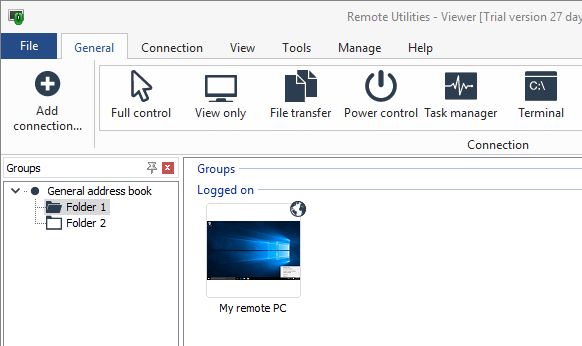 The Viewer module allows you to store and manage your connections by grouping them into folders and address books. Connections represent your endpoints (remote computers). In the screenshot above, a connection called "My remote PC" has been created in Folder 1 of the "General" address book.
The Viewer has advanced built-in tools such as MSI Configurator and Remote Install. These tools are designed to help with administration and deployment across multiple target computers.
Host
The Host is installed on the remote computer to which you connect. In this guide we will call this computer the target computer.
The Host icon is visible in the system tray on the target computer. You can access the Host settings if you right-click on the icon. By default, the Host starts automatically with Windows, but you can change this behavior in the Host settings.
Installation
Installing Remote Utilities is straightforward. Download Viewer and Host installation packages and run them on admin and target computers respectively. Follow Installation Wizard instructions.
Remember
Instead of the standard Viewer package you can use the Portable Viewer and run it off a removable disc (e.g. a USB stick). Portable Viewer doesn't require installation — just download it, copy onto your removable device and run the Viewer executable (rutview.exe) from there. Learn more about using Portable Viewer.
If you need to provide quick, ad hoc support to a user sitting at the remote PC, just have them download and run the Agent instead of installing the Host. The Agent doesn't require installation and administrative privileges. It does, however, require the remote user to run it before a remote session can start. Once they close the Agent window the remote session terminates.
If you need help with installing Remote Utilities please refer to this installation guide.
Connection types
With Remote Utilities you can connect to a target computer in two different ways:
Direct connection
This is when you connect from Viewer to Host without any intermediary in-between. All communication is conducted exclusively between Viewer and Host. This connection type is used primarily on a LAN or VPN network.
Direct connection always provides best possible performance and speed. However, if direct connection is to be established over the Internet, additional configuration steps might be necessary, such as creating a port forwarding rule in the router on the Host side.

Internet-ID (cloud) connection
This connection type uses a relay server in the cloud — a web server that makes remote connection possible when the Host is not in direct visibility of the Viewer. The relay server helps bypass firewalls and routers, so that no additional network configuration is necessary.
A relay server may be:
Our public server. This is the default option suitable for most users.
Self-hosted server. This is an advanced option suitable for extensive helpdesk operation and multi-user environment. You can learn more about self-hosted server here.
The steps below describe how to establish an Internet-ID connection that uses our public server (the default server option). For other connection types please refer to the program documentation.
Getting connected
On the target computer (Host):
1. Right-click the Host icon and select Internet-ID Connection Settings: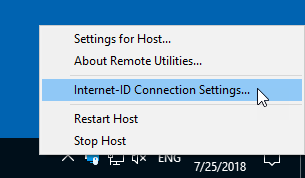 2. Click Get New ID: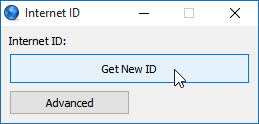 3. A unique Internet-ID code will be generated. Note the Internet-ID code and close the window: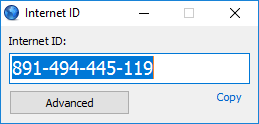 On the admin PC (Viewer):
1. Start the Viewer app and click Add Connection: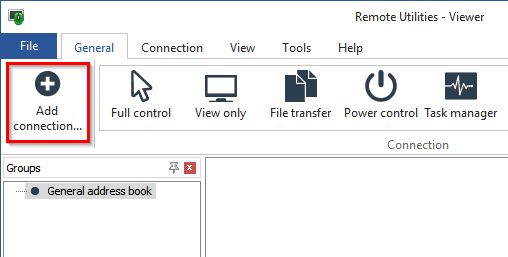 2. Enter a descriptive name and the Internet-ID of the target computer and click OK:
3. Enter Host access password in the password prompt and click OK:
Important!
You should have set the Host access password during Host installation. If you didn't , you can always set or change the password later. Right-click the Host icon, select Settings for Host ➝ Authentication, enable the Single password checkbox, set and confirm a new password and click OK. Learn more about Host security settings.
4. The remote session will start in the selected connection mode. In this example it's the Full Control mode:
5. The connection will be saved to your address book. Note a small globe at the top right corner of the connection icon — it signifies that this is the Internet-ID connection type:
Registration
The Viewer works in a trial mode for 30 days. In order to use the Viewer beyond the trial period, you will need to register it with a license key. Other program modules such as Host, Agent and RU Server do not require registration.
You can register the program with a free license key. The free license allows you to control up to 10 remote computers but it has some limitations. Namely, you can only use one free license key per individual, business company or organization.
If you have more than 1 user in a company/organization and/or you need to control more than 10 remote computers consider purchasing a commercial license. Remote Utilities offers different license types for any situation. You can learn more about our licensing on the license comparison page.
Troubleshooting and support
The most complete information about program features can be found in the Documentation. Answers to frequently asked questions and solutions to known problems are available in the Knowledge Base.
For personalized assistance visit our Community Forum or use the Ticket System (paid customers only). Please, use the English language when contacting our technical support.
Thank you for using Remote Utilities!