Connecting over LAN
If the Viewer and Host are on the same LAN or VPN, establishing a direct connection is possible. In this case no intermediary web server is used.
Before you start
Install the Viewer and Host on the admin (local) and remote PC respectively. When installing the Host make sure you set access password as prompted by the installation wizard.
Make sure the Host PC is allowed to accept connections at TCP port 5650 (default value). An exception is added to your Windows Firewall automatically when you install the Host. If you changed the Host port to a different value or if you use a different firewall software, you need to add an exception manually. Learn more about Remote Utilities ports.
Configuring Host
Determine the private (local) IP address of the Host computer. An easy way to do this is to hover your mouse pointer over the Host icon. The tooltip will show your local IP address. In our example it's 192.168.0.35.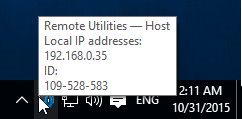 Configuring Viewer
1. Start the Viewer app and click Add connection: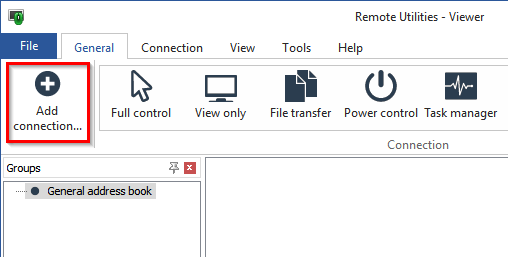 2. Enter a descriptive name and the IP address of the Host PC. Click OK:
3. Enter Host access password in the password prompt and click OK:
4. The remote session will start in the selected connection mode. In this example it's the Full Control mode:
5. The connection will be saved to your address book automatically: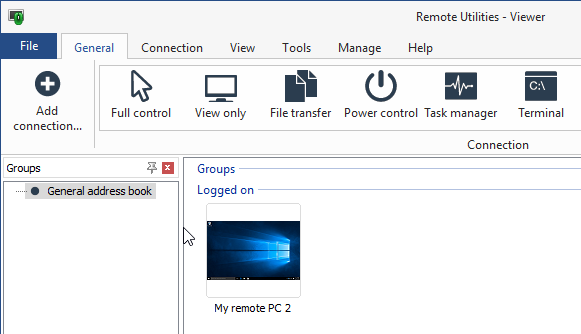 Tips
If you have difficulty making direct connection work, please check this troubleshooting guide.
Direct connection over the Internet is also possible with Remote Utilities. In this case you must create a port forwarding rule in your router settings. Please, refer to this article for more information.