Server configuration
Use the configuration dialog to manage the server's own settings.
Opening configuration dialog
You can open the configuration dialog from the Admin Console. In the Admin Console click File ➝ Server configuration...: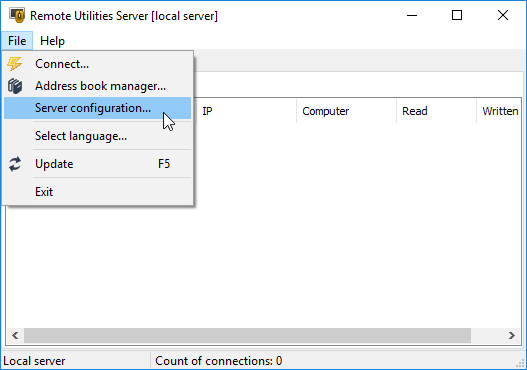 Important!
This menu item is available if the Admin Console is running on the same computer as the service (which is by default). If you connect to this server from an Admin Console installed on another computer you won't be able to access the configuration dialog in the way above. Instead, get remote access to the Server PC, and navigate to Windows Start menu ➝ All programs ➝ Remote Utilities - Server ➝ Configuration to open the configuration dialog.
Service state tab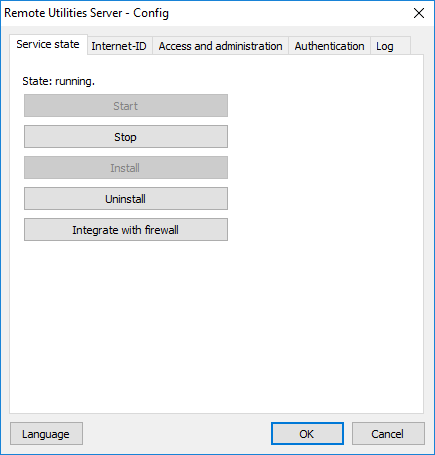 Start - Start the service
Stop - Stop the service
Install - Install the service
Uninstall - Uninstall the service
Integrate with firewall - Integrate the service with Windows built-in firewall (add to exclusions)
Language - change interface language
Internet ID tab
This is where you set the server's communication port - a TCP port used by the server to communicate with its Viewers and Hosts. You can add multiple ports here as well —
Click the IP filter button to set IP filtering rules. A black list allows access from all IP addresses or ranges except the ones on the black list. A white list only allows access from the IP addresses or ranges on the white list while blocking access from all other IP addresses.
Access and administration tab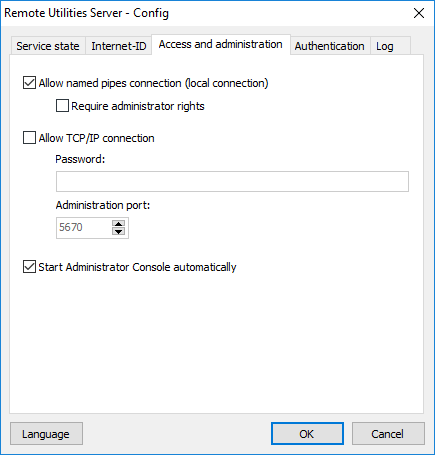 Allow named pipes connection (local connection) - use this option to allow connections to the server from the Admin Console installed on the same PC. This is the default option.

Require administrator rights - require the Admin Console to be run as an administrator to enable connection to the server.

Allow TCP/IP connection - allow remote connection to the service from an Admin Console installed on a different PC.

Password - also set access password
Administration Port - port used for connecting to the server from Admin Console installed on a different PC.

Start Administrator Console automatically - automatically start the Admin Console with Windows.
Important!
Do not confuse the administration port with the communication port/ports:
Administration port — used when accessing the server from an Admin Console installed on another PC. I.e. the use of this port is limited to the Server administration only.
Communication port — used by Viewers and Hosts to communicate with the Server.
Authentication tab
This tab shows the server's public key used when Viewers are signing in on the server.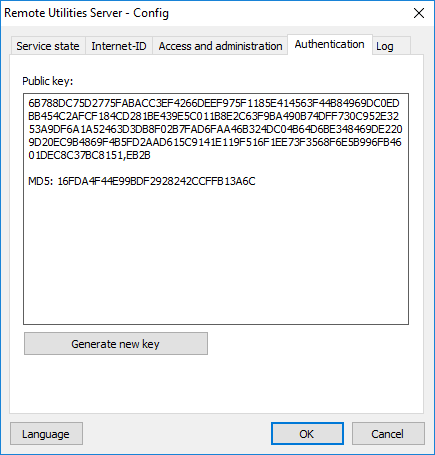 Important!
If you sign in on the server from a Viewer at least once, then re-generate the public key in the window above and try to sign in again, you will see the following message: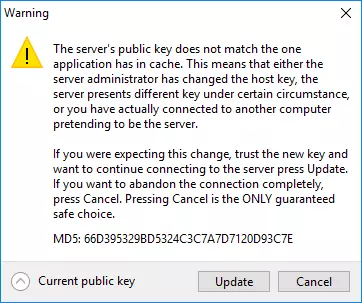 This message warns the user that this server is possibly not the one they intended to sign in on. I.e. this feature acts a means to ensure server identity protection.
Log tab
Select if you want the Server to keep events/errors and connection logs.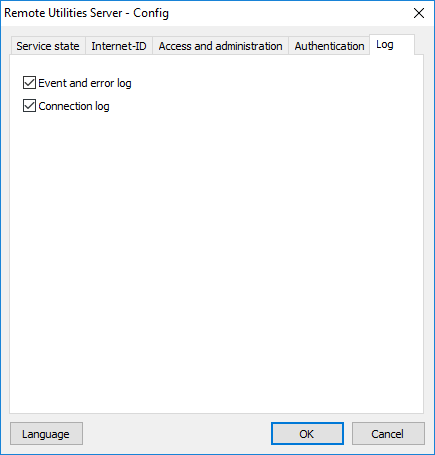 The logs are stored in the following locations:
Event and error log — C:\Program Files (x86)\Remote Utilities - Server\Logs
Connection log — C:\Program Files (x86)\Remote Utilities - Server\stat