Remote settings
You can change the settings of a running remote Host from within the Viewer (i.e. remotely).
Important!
If there is a Host running on the Viewer PC, you must stop this Host first before using this feature. To stop the Host, right-click on the Host icon in the system tray and select Stop Host: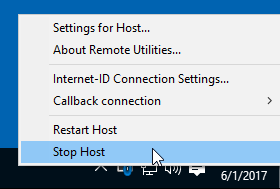 To access the remote Host's settings:
Right-click on the target PC connection in the Viewer and select Remote Settings:
If you didn't save the password for this connection earlier, a password prompt window will appear. Enter the password for the remote connection and click OK.
The Host settings window will appear:
Make all the desired changes to the Host settings and click OK in the Remote Settings dialog to apply them:
You will be asked if the remote Host should be restarted. Click Yes:
Allow 1-2 minutes for the remote Host to restart before you can connect in to the remote PC.