Encrypt Address Books
The Viewer stores local copies of your address books, including synchronized ones. To safeguard your address book data from theft or unauthorized access, especially if you use the Save password feature and store remote access passwords in connection properties, it is highly recommended to enable address book encryption. This recommendation applies particularly if you use the Portable Viewer.
Important!
Address book encryption is separate from the data encryption used by Remote Utilities to secure data transmitted over the network. Data encryption is always active and cannot be disabled. For more information, please visit the Security page.
---
Turn on address book encryption
In the Viewer window go to Tools and click Options:
Select the Protection tab and turn on Encrypt address book. You can also turn on additional options, such as "Lock on sleep", etc.:
Enter and confirm the encryption passphrase, click OK and close the Options window.
Important!
Remember to keep your encryption password (passphrase) secure and accessible. If you forget the encryption password, you will permanently lose access to your encrypted address books. Take caution to avoid forgetting or losing the encryption password.
---
Access encrypted books
If you have at least one encrypted address book loaded in your Viewer, you will be prompted to enter your encryption password when opening the Viewer: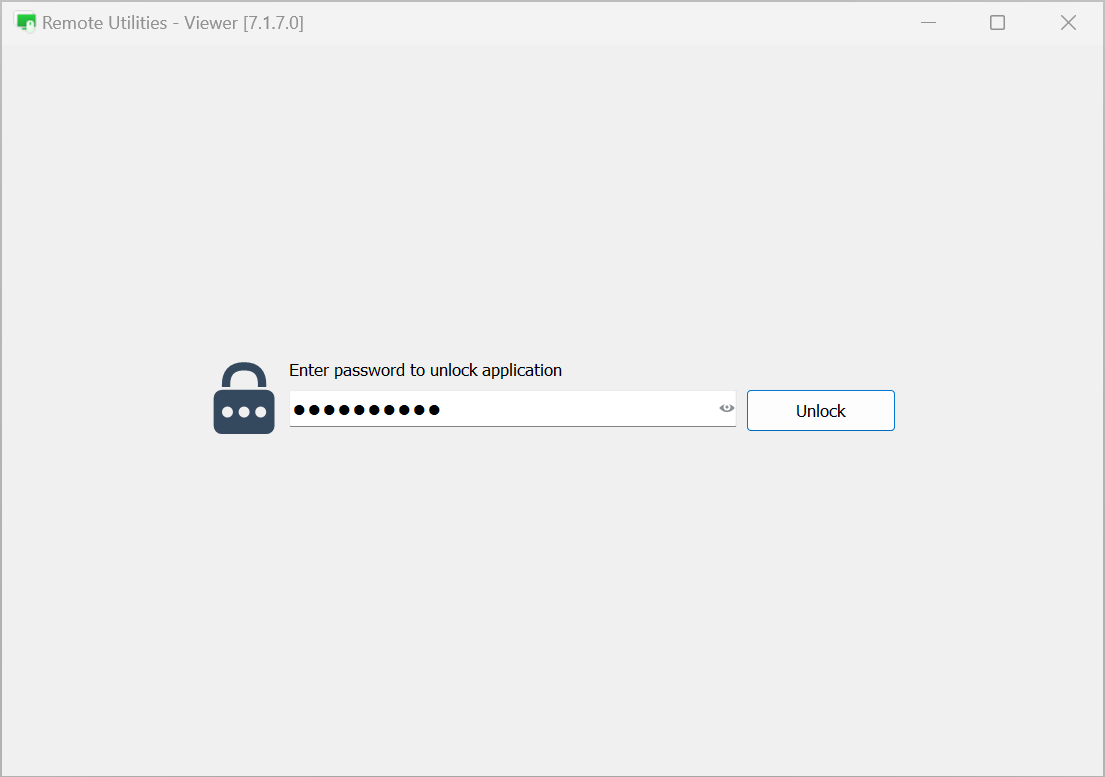 To lock the Viewer interface again, click the Lock button located at the top right corner of the Viewer window:

---
Storage of encrypted books
Encrypted books are stored as files with the .encrypted extension in the same folder as the original unencrypted files. When encryption is enabled for an address book, the unencrypted address book file is replaced with the encrypted file.
If you enable encryption for an address book and load a new unencrypted book in the Address Book Manager, the new address book will automatically be encrypted using your current encryption password. The corresponding address book file will be replaced with its encrypted version.
If you unload an encrypted address book from your Viewer using the Address Book Manager, the corresponding address book file remains encrypted on the disk. You can load this book back into the Viewer as long as you haven't changed your encryption password in the Viewer options since unloading the book.
---
Encrypted books on RU Server
When using RU Server for address book sync between multiple Viewers, it's important to note that the server copy of the address book (on the computer where RU Server is installed) remains unencrypted. However, you have the option to encrypt the local copy of the address book on the Viewer side.
---
Encrypted book backup
Encrypted address books are backed up in the same way as unencrypted books. Automatic daily backups are available for all address books, and you can also manually back up your address book using the Export command. For more information, please refer to the Back up address books page.