Manage Address Books
Use the built-in Address Book Manager to add address books into the Viewer and edit their properties and synchronization settings.
---
Open Address Book Manager
Go to the Manage tab and click Address Book Manager:
The Address Book Manager window will open:
---
Add new address book
Adding an address book to the Address Book Manager involves providing the path to an address book XML file on your local disk. Once added, you can load or unload the address book in your Viewer by selecting or deselecting the checkbox next to the record.
In the Address Book Manager click Add and select the address book kind — local or remote. Select Local and click Next:
Select whether you want to create a new address book or open an existing address book file. Select Create new address book file and click Finish:
Enter a name for your address book file and click Save:
A new record will be displayed in the Address Book Manager. When the checkbox is selected the corresponding address book is loaded into the Viewer:
Click Close to close the Address Book Manager. The address book will appear in the navigation pane of the Viewer window.
To add an existing address book, follow the same procedure as mentioned above. In the second step, select "Open existing address book file" and choose the address book file using the Windows Open dialog.
To unload an address book from the Viewer, open the Address Book Manager and uncheck the corresponding checkbox. This action will remove the address book from your Viewer interface but will not delete it from your disk. Please note that the general (default) address book cannot be unloaded and will always be displayed in the Viewer.
---
Edit records
To edit an existing record in the Address Book Manager:
Select the record in the list and click Edit:
Edit the general properties:

Active—enable or disable showing the address book in the Viewer.
Address book name—specify the name under which the address book should appear in the Viewer.
Location—click Browse to specify the path to the address book on the local disc.

Edit address book sync properties:

Enable synchronization—enable automatic address book sync.
Server—specify which self-hosted server to use.
---
Delete records
To delete a record from the Address book manager, select the record and click Delete.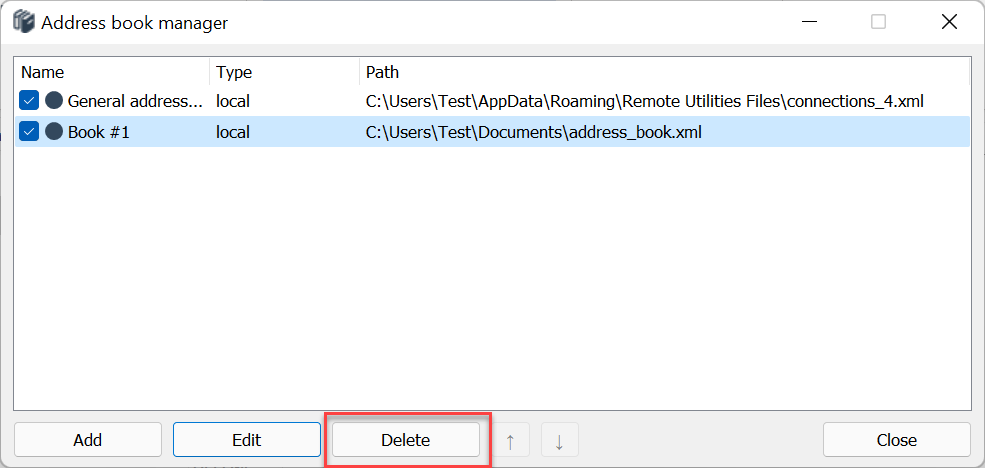 Important!
Deleting a record from the Address Book Manager does not delete the address book file itself on the disk. Only the path to the file is removed from the Address Book Manager. The actual address book file will remain intact on your disk.