Glossary
A
Address book
An address book is a collection of records also called connections with each connection representing a remote PC. Connections have properties that define specific characteristics of a remote session, such as the destination address, access password, color depth and so on. Connections can be grouped into folders.
By default, address books are backed up daily. You can also enable local address book encryption in which case you'll need to enter your password each time you open the Viewer.
Address book manager
Address book manager is a window/dialog where you can add, edit and delete your address books. There are two address book managers:
1. Address book manager in the Viewer. Here you can add address books (address book XML files) and then enable showing them in the Viewer interface. You can also use this address book manager to add a synchronized address book.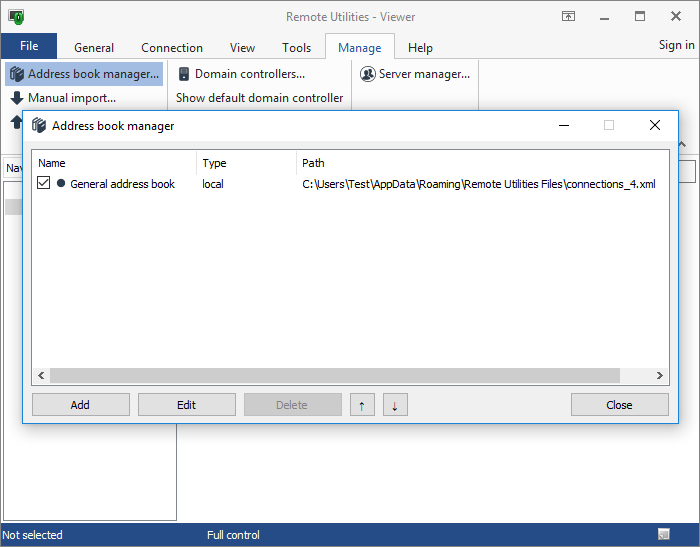 2. Address book manager in the Server. This address book manager is used to create a server address book (or multiple books) that can be synchronized among multiple Viewers. Also, you can create and manage users and groups and set access permissions in the server address book manager. See more information in Setting up sync server.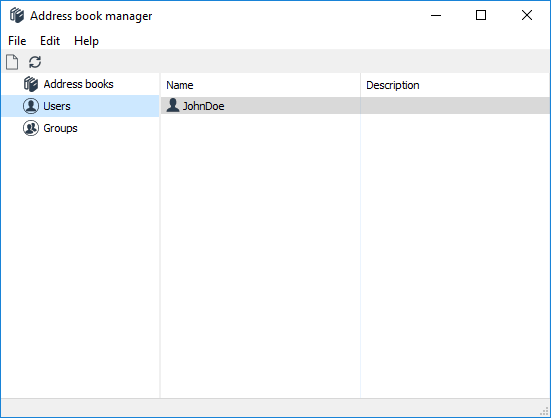 Admin console
The Admin Console is a GUI dashboard that allows you to administer RU Server and monitor currently active and idle Viewers and Hosts connected to the Server. You can also use the Admin Console menu to open the Server's address book manager.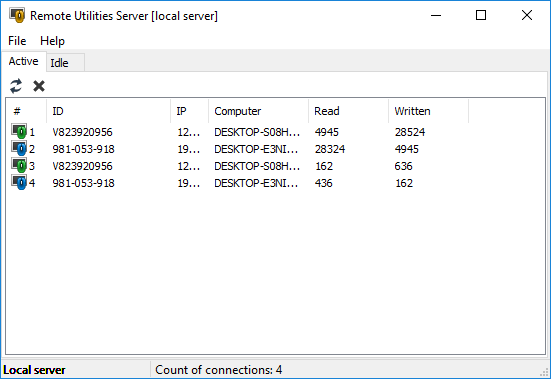 Agent
Agent is a remote module for spontaneous-only support. The Agent displays its own window that can be branded with your custom logo and text.
Agent doesn't require installation and administrative privileges to run.
Auto-import
The Auto-import is a feature available with the self-hosted server. When this feature is enabled, remote Hosts that connect to your self-hosted server are automatically added to the specified folder in your server address book as connections: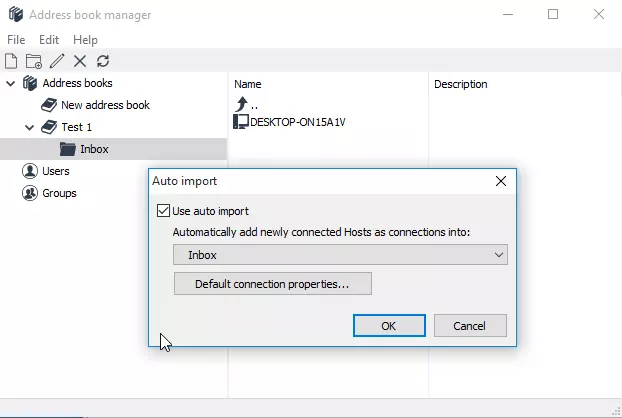 This feature makes sense only if you synchronize your address book through the self-hosted server.
C
Callback connection
A callback or reverse connection is a type of direct connection that uses the IP address of the Viewer instead of the Host, to establish a remote connection. to the remote Host even if the Host is not accessible by its IP address.
Connect through Host
You can use a Host located in your local network to broker connection to other Hosts in the same network. For example, instead of exposing each PC to the outside world you can only allow access to a single Host PC and make it an intermediary for connecting to other Hosts in the LAN.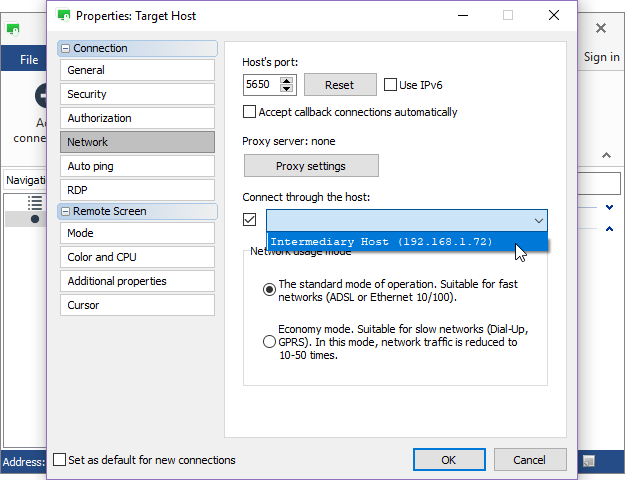 Connection properties
Each record (also called "connection") in the Viewer's address book corresponds with a certain remote PC (Host) and has individual properties. To view and edit the properties right-click on a connection and select Properties.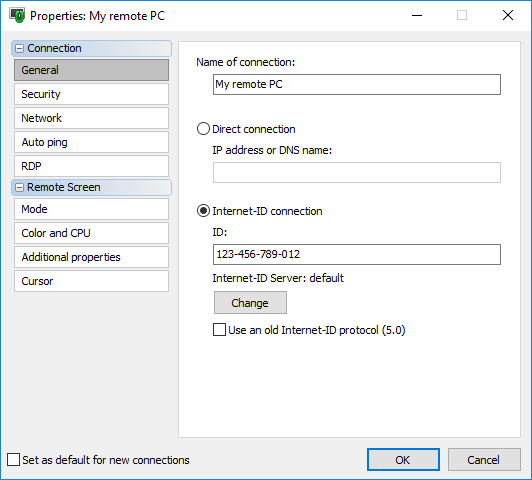 You can set defaults for all newly created connections in your address book. See Default connection properties.
Custom server security
Custom server security is one of three authorization methods available in Remote Utilities. With this method enabled, you can access your remote Hosts once you have signed in on the Server in the Viewer app.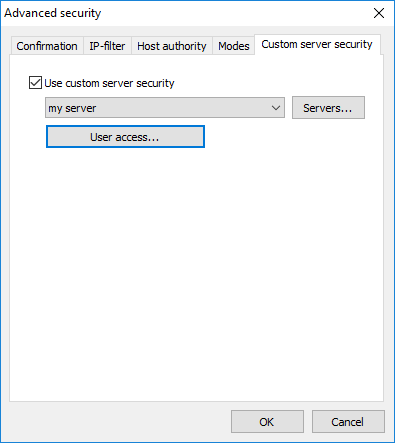 This method requires that you use your self-hosted server as an authorization center/hub.
D
Direct connection
With Remote Utilities you can directly access a remote Host. Unlike Internet ID connections, no relay servers are used to broker a direct connection. By definition, this is the fastest connection type available in Remote Utilities.
Generally, to establish a direct connection you must use the remote computer's IP address or DNS/hostname: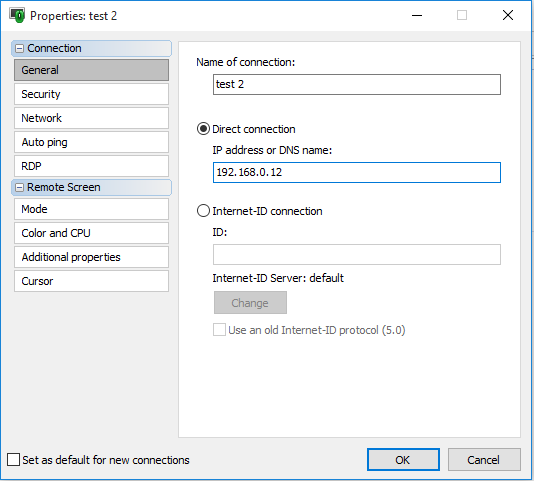 You can establish a direct connection over a private network (LAN or VPN) and over the Internet. Usually, when connecting over a private network, no network configurations are required on the Host side. If you connect over the Internet, you may need to set up your router properly, namely create a port forwarding rule. See more information in our documentation.
F
File transfer
File Transfer connection mode allows you to copy files and folders to and from the remote PC in a two-pane window interface: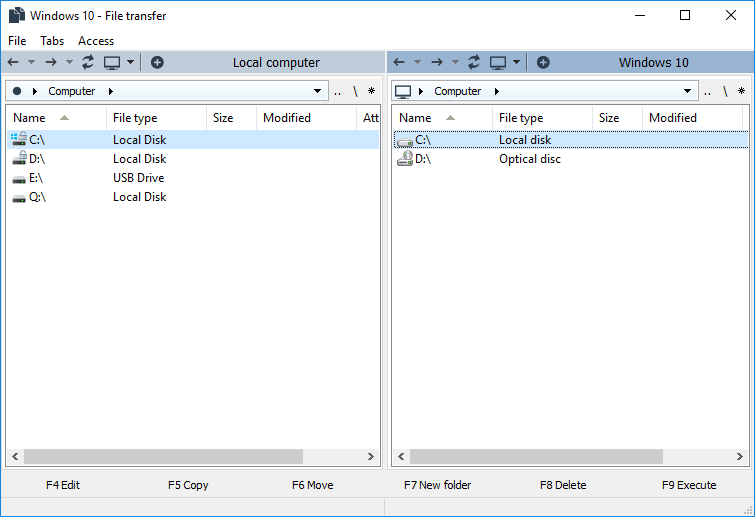 Full Control and View
Full Control is a connection mode that allows you to view the remote screen, move the remote mouse pointer and send clicks/keystrokes. In Remote Utilities this connection mode is used most often.
View Only mode, as the name implies, allows you to view the remote screen without access to the remote mouse pointer and keyboard. You can switch between Full Control and View only modes without closing the Full Control mode window, by clicking the corresponding icon on the toolbar.
H
Host
The Host is a remote module installed on a target (i.e. remote) PC. This module works for both unattended and attended access.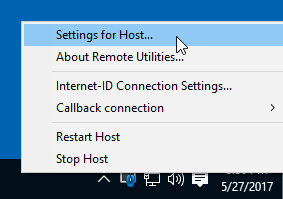 You can access the Host settings through the Windows Start menu or by right-clicking its icon in the system tray.
I
Internet ID
The Internet ID® is a NAT-traversal (firewall bypass) technology used in Remote Utilities. This technology allows you to connect to a remote PC over the Internet without additional configuration of the firewall and/or router on the Host side.
An Internet ID connection is a connection type that uses the Internet ID technology.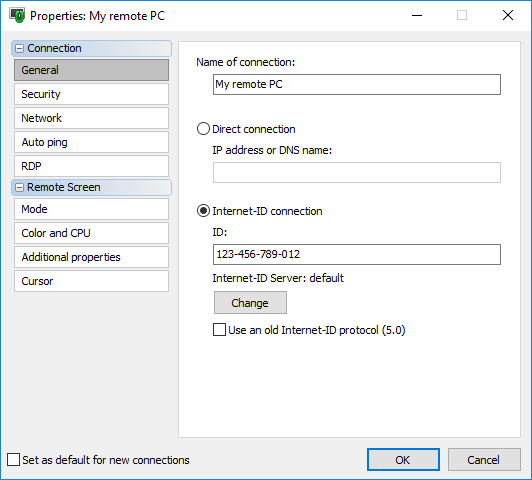 An Internet ID code is a 9-digit number used as an address of the remote Host to establish an Internet ID connection. The code is generated on the Host side and is unique for each Host.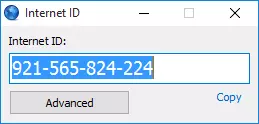 An Internet ID server (also a relay server) is an intermediary server which is necessary for the Internet ID technology to work. Our company provides free public server infrastructure which is the default choice for an Internet ID connection created in the program. Alternatively, any user can install and configure a free self-hosted server and use it as an Internet ID server instead of our public servers.
L
License key storage
When you register the Viewer with a license key, the key is added to the License Key Storage. To open the license key storage click Help ➝ License key storage in the Viewer.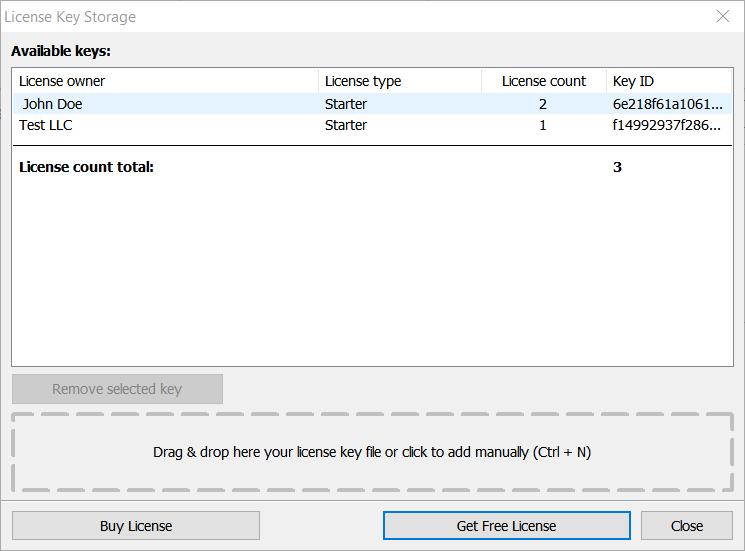 The license key storage can hold multiple keys of the same type, in which case they add up.
M
MSI Configurator
In Remote Utilities the MSI Configurator is a built-in tool that helps you bulid a custom Host or Agent installer/executable for subsequent deployment across your network or clientele.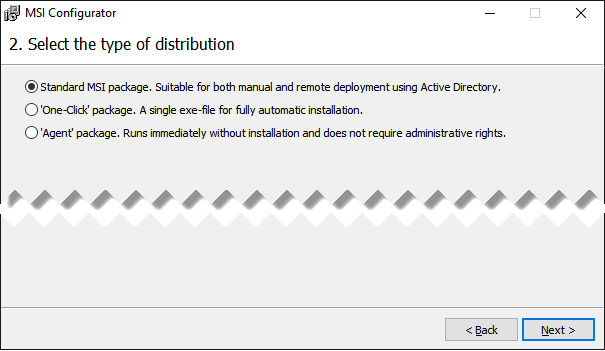 Three package types can be built with MSI Configurator:
Standard MSI Host package
One-click Host package
Agent package
N
Notification panel
The notification panel is a small window shown on the remote side during a remote session:
By default, the notification panel is disabled in Host and enabled in Agent.
P
Power control
The Power Control connection mode is used to shut down, restart and lock the remote computer, or turn the remote monitor on or off.
R
Remote Install
The Remote Install tool is a built-in tool that facilitates Host deployment across multiple stand-alone or domain remote PCs. You can use the tool to install, uninstall, start, stop and update a remote Host.
Remote Utilities Security
Remote Utilities Security is one of the three authorization methods available in Remote Utilities and is the default option when you install RU Host for the first time. With this method enabled you can authorize on a remote Host either using a single access password or create different users with custom permissions.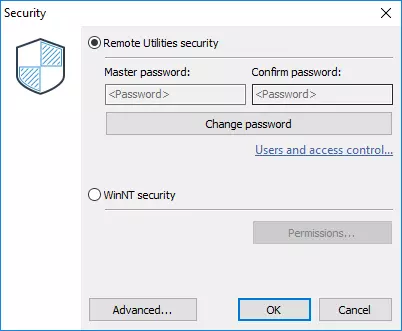 S
Server
Remote Utilities Server (RU Server) is self-hosted server software that you can install on your premises. The Server integrates with Remote Utilities and enhances its capabilities with added features.
Learn more in Solutions: Self-hosted server
Server configuration
The self-hosted server (RU Server) settings are available in the Configuration window. Here you can start/stop/uninstall the service, edit administrator access settings, change the listening ports for the Server as well as change/update other options.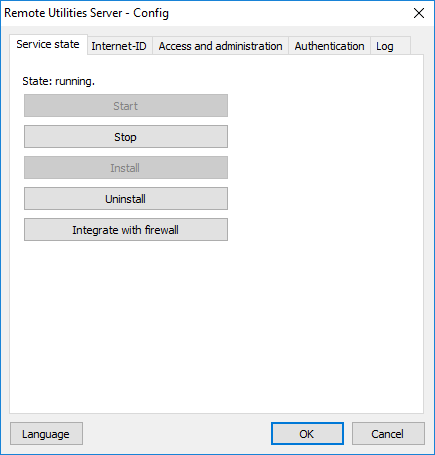 T
Toolbar
In the Full Control and View connection mode the toolbar contains frequently-used commands. To reveal the toolbar, hover your mouse pointer over the top edge of the Full Control window.
V
Viewer
Viewer is a single "command center" used by a support technician/admin. The Viewer is where you keep your connection list, start a remote session and manage your licenses.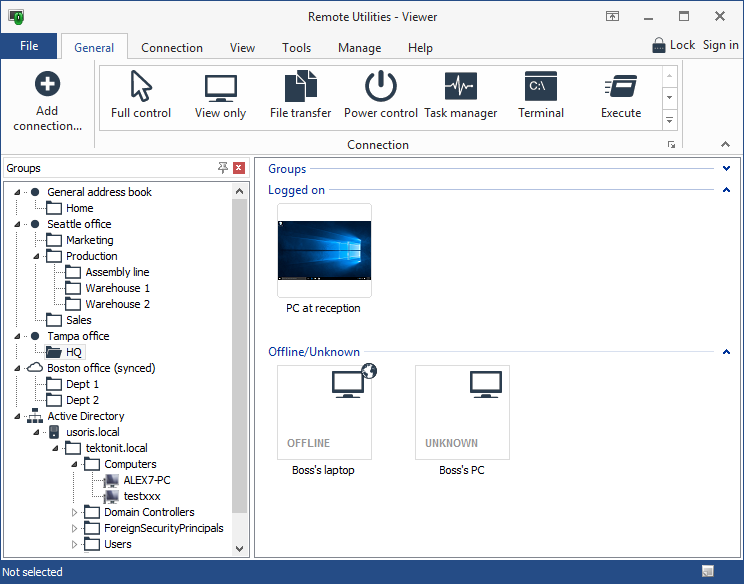 W
Windows Security
Windows (also "WinNT") Security is one of the three authorization methods available in Remote Utilities. When using this method you can authorize on remote Hosts using Windows or Active Directory account credentials.