Settings Protection
You can protect Host settings with a password to prevent them from unauthorized modification by the remote user. With the Host settings protection enabled, whenever you try to access the settings, the program will prompt you for a password. To unlock the settings, you will need to enter the correct password and click OK: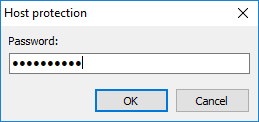 Important!
Do not confuse the settings protection password with the single password security password.
Enabling settings protection
Right-click the Host icon in the system tray and select Settings for Host:
Select the Settings protection tab on the left:
Enable the Password protect settings checkbox:
Enter and confirm a new password, then click OK.
[Optional] You can protect Internet ID settings and callback settings by selecting the respective check boxes:
Click OK to close the settings window.
Changing settings protection password
In order to change the settings protection password:
Right-click the Host icon in the system tray and select Settings for Host:
When prompted, enter your current settings protection password that you created earlier and click OK:
Navigate to the Settings protection tab and click Set password...:
Enter the old password, create and confirm a new password. Click OK:
New password has been set. Click OK to close the Host settings window:
Disabling settings protection
If you no longer need to protect the settings on this Host, you can remove password protection:
Right-click the Host icon in the system tray and select Settings for Host:
When prompted, enter your current settings protection password that you created earlier and click OK:
Navigate to the Settings protection tab and uncheck the Password protect settings checkbox:
Enter your current settings protection password and click OK:
Settings protection has been disabled. Click OK to close the Host settings window: