Settings protection
You can protect Host settings with a password to prevent them from unauthorized modification by the remote user. With the Host settings protection enabled, whenever you try to access the settings, the program will prompt you for a password. To unlock the settings, you will need to enter the correct password and click OK: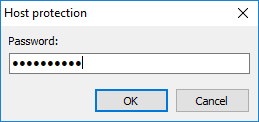 Important!
Do not confuse the settings password with the master password that you set to access the Host remotely. These are different passwords, although they can be identical.
Enabling settings protection
Right-click the Host icon in the system tray and select Settings for Host:
Click Settings for Host and select Settings protection from the menu:
In the Settings protection dialog enable the Password protect settings checkbox:
Enter and confirm a new password, then click OK.
[Optional] You can protect Internet ID settings and callback settings by selecting the respective check boxes.
Click Close to close the settings protection dialog.
Changing settings protection password
You can change the existing settings protection password:
Right-click the Host icon in the system tray and select Settings for Host:
When prompted, enter your current settings protection password that you created earlier:
Click Settings for Host and select Settings protection from the menu:
Click the Enter password... button:
Enter your current (old) password, set and confirm a new password. Click OK:
New password has been saved. Click Close to close the settings window:
Disabling settings protection
If you no longer need to protect the settings on this Host, you can remove password protection:
Right-click the Host icon in the system tray and select Settings for Host:
When prompted, enter your current settings protection password that you created earlier and click OK:
Click Settings for Host and select Settings protection from the menu:
Uncheck the Password protect settings checkbox:
Enter your current settings protection password and click OK:
Settings protection has been removed. Click Close to close the window: