Self-Hosted Server
Enhance Remote Utilities capabilities with RU Server installed on your premises.
What is RU Server?
RU Server is self-hosted server software that you can deploy in your organization. The same RU server installation may act as a relay server, sync server, or authentication server, or perform all three roles at once.
Relay server. The server can act as an intermediary that facilitates an Internet-ID connection — a remote connection that lets you bypass firewalls and NAT devices.
Sync server. This role lets multiple technicians automatically sync their address books according to access permissions set for them.
Authentication server. Enable custom server security authentication method and use the server to centrally manage access permissions for users/techs who connect to your Hosts.
Note
Synchronization and authentication roles are
only
available with the self-hosted server. These features are not available with our public server infrastructure.
Why use RU Server?
Makes you independent from our company's servers when you use an Internet-ID connection. With the self-hosted server, you are in control of your entire remote support infrastructure.
Brings immediate gains in speed and performance when Internet-ID connection type is used. This is especially important if you support customers in your local area.
Allows you to centrally manage and set access permissions for the techs/users who access remote computers and provide remote support on a regular basis.
Free of charge and risk-free. You can always switch back to using our company's servers or even create a mix with some connections routed via our servers and some connections routed via your self-hosted server.
Relay server role
The Internet-ID technology implemented in Remote Utilities uses a relay (routing) server to help establish a remote connection over the Internet. This lets you connect to remote computers located behind a firewall or a NAT device such as a router:
When you first enable the Internet-ID in the program, our company's public server infrastructure is used by default. However, you can switch from using our servers to using your own self-hosted server. In this case, you'll need to deploy the server on your premises and configure both sides of a remote connection — the Viewer and the Host — to connect through your server: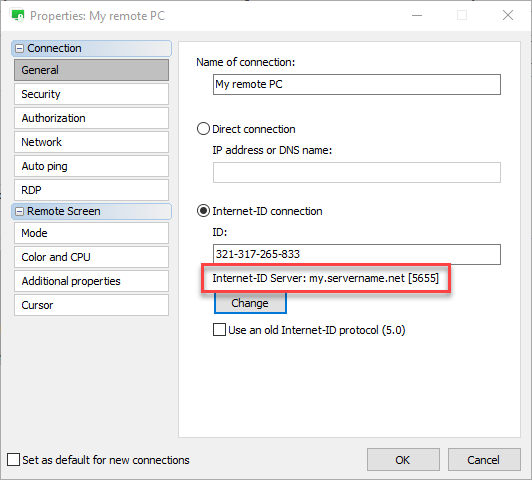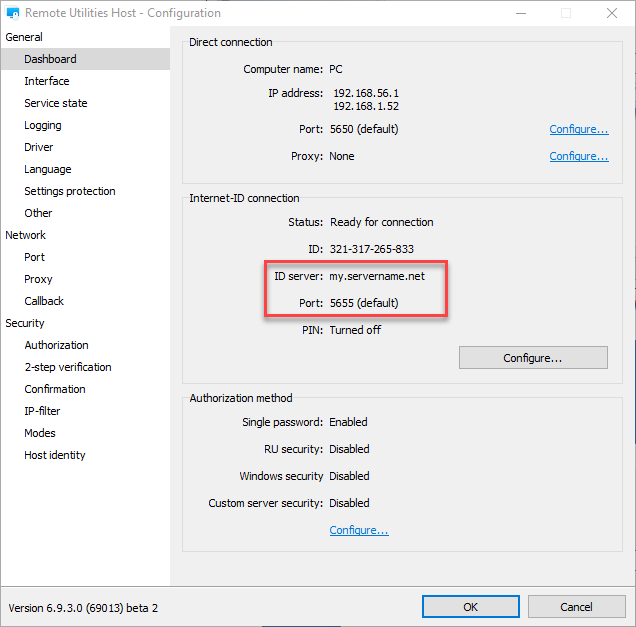 In order to save time when deploying Hosts across multiple endpoints, you can build a custom Host installer and embed your RU Server address (or DNS name) in the settings. Use the MSI Configurator tool built into the Viewer to create a custom Host installer.
Sync server role
Technicians working on a team can synchronize their address books. This means that changes made to the address book by one technician will immediately be seen by the others.
The sync setup process starts on the server. The server administrator creates users, groups and an address book to sync. Then he assigns users and/or groups access rights to the entire address book or its specific folders and connections: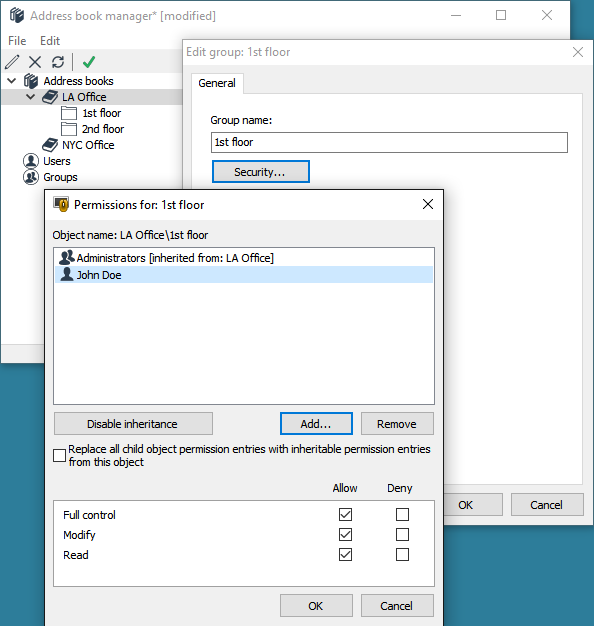 Technicians must sign in on the server in their Viewer app. This will ensure they can load and sync the address book:
The specific folders and connections a technician can view and edit depend on what permissions were set for that technician's account on the server: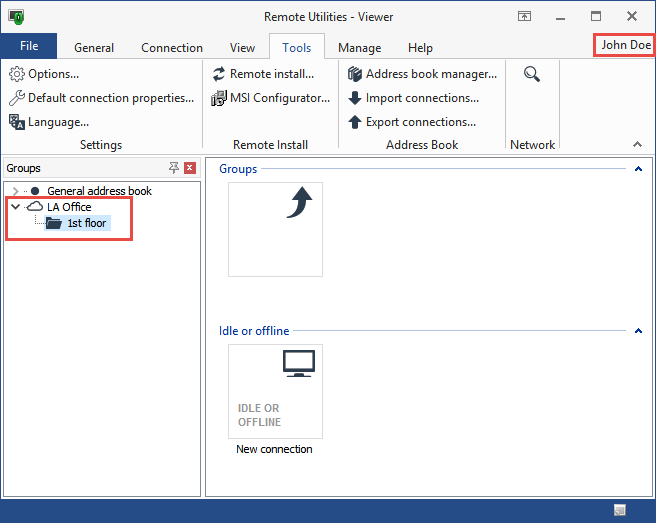 All Hosts that communicate with the RU Server can automatically be added/imported into your address book. You can assign a specific folder in your address book to be your "inbox" where to put all new connections: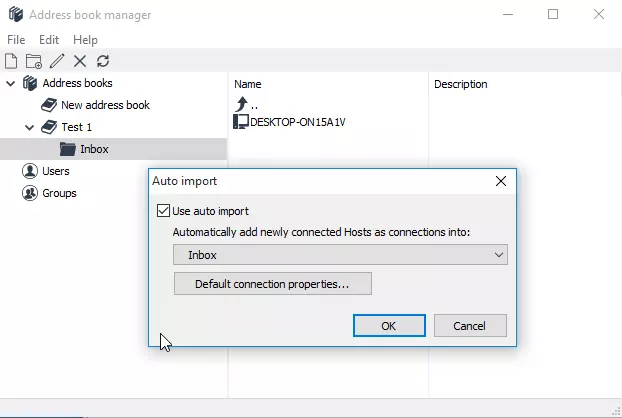 You can then move connections from the inbox folder to other folders in the address book. So long as you do not delete them from your address book, duplication won't occur. That is, the same Host won't be added twice if it already exists in a folder in your address book.
Authentication server
The self-hosted server can act as a central hub for storing user accounts and access permissions data for all your Hosts. When this role is enabled, technicians can connect to remote Hosts in one click without entering access credentials.
To achieve that, the technicians must be signed in on the server in their Viewer app:
Also, the custom server security authentication method must be enabled on the Host side and access permissions must be set: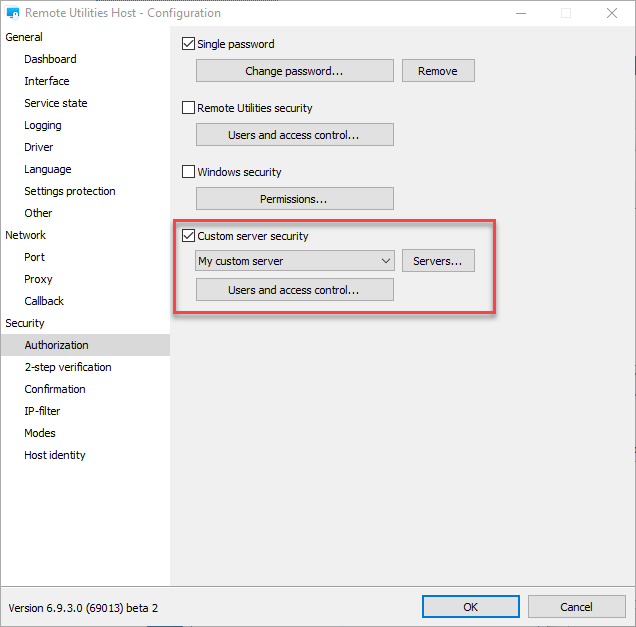 Administrators benefit from this server role, because it allows them to centrally manage Host permissions without updating settings on each and every Host. For example, if a technician leaves the company the administrator can quickly disable their access to all remote machines by unchecking one check box in their user account properties on the server.