Remote Utilities Software Review
For most businesses, and some individuals, there will come a time when a remote desktop access solution becomes a necessity. Remote computing software can help businesses by allowing IT to instantaneously manage and monitor hardware and software by accessing systems remotely to provide support and increase productivity, from anywhere in the world. The ability to successfully manage, monitor and maintain computer software and hardware can add convenience and save you and your business time and money.
"For power users, there's plenty to like about Remote Utilities. Several connection modes are offered beyond the full remote desktop experience. There's also a file transfer mode, remote device manager, registry viewer, remote webcam access, and a terminal mode--which is an excellent way to perform simple command line tasks from a distance." - PC World
Remote Utilities really shines in its professional versions, which are designed to satisfy the needs of systems administrators, IT professionals and help desk providers. Remote Utilities allows users to see the actual remote computer's monitor, as well as control the computer's mouse and keyboard. It is the second best thing to actually being physically seated at the computer. The software puts you in control of the remote computer, and makes it possible for you to perform any function you could at the remote desktop.
The program can link via a LAN or the Internet in several connection modes. It can also be scaled up to accommodate bigger atmospheres with thousands of PCs and Windows servers. As a result, Remote Utilities is a dynamic tool for small and mid-sized businesses seeking a flexible and economical remote administration solution.
The installation is simple and straightforward. First, the Viewer is installed on the administrator's local computer. Next the Host is installed on the remote computer(s) that will be accessed remotely. There is also an Agent which provides a zero-configuration module for ad-hoc customer support, which does not need to be installed. After installing Remote Utilities you will be ready to access your remote computers and server systems from anywhere in the world. Your connection can be established directly using an IP address, or indirectly using the Internet ID.
Remote Utilities provides a RU Server that is a free self-hosted server software utilizing Internet ID technology to bypass firewalls and achieve faster connection speeds. After the RU Server is downloaded it can be installed locally. This will provide you with complete control over your mediated connection and will free you from dependency on Remote Utilities global servers for firewall bypass. In addition, the RU Server provides added security and privacy by allowing you to keep every link in the chain of command under your direct control.
Once installed Remote Utilities offers several flexible modes of remote access, including: Full control and View, File Transfer, Ask User Permission, Firewall Bypass and Proxy Support, Text Chat, Voice and Video Chat, Tabbed Window Interface and Remote Printing. In addition, the software provides administration and help desk functions such as, Active Directory Browser, Multiple Users and Permissions, Terminal Sessions Support, Power Control, Multiple Monitors Support, Execute, Lock Input and Blank Remote Screen. Users can also perform a wide variety of remote surveillance tasks, like View Only, Screen Recording, Get Remote Camera and Microphone and Hide Tray Icon.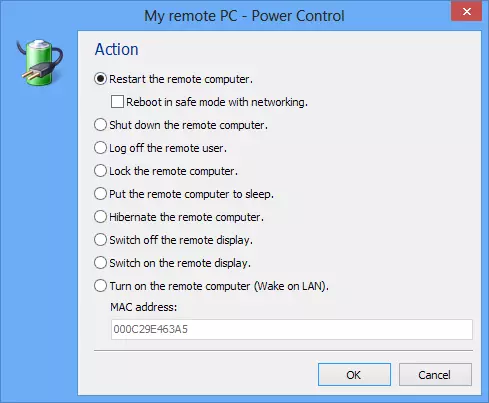 "I was looking for a remote desktop solution to use for my clients. I needed a solution that would be easy to install and configure remotely. I came across remote utilities 5.0 and decided to give it a try. I have to say RUT exceeded my expectations. I was able to configure an install file for my clients, that contained all the parameters to login to my clients computers , all my client needed to do was generate and supply the internet ID, which we achieved over the phone. I created a profile for that particular machine on the viewer and was ready to connect. To date I use RUT 5.0 to assist end users with minor issues and complete complex tasks taking several hours. I am very pleased with the programs performance and stability. At present I own one helpdesk channel and plan to add a second. RUT 5.0 is definitely worth a look if you provide remote computer support services." - stanaics, CNET Reviewer
Remote Utilities commercial edition is designed for use by businesses and includes all of the features listed above. The commercial license is available in two pricing models that allows businesses to select the model which works best for them: either per operator or per remote computer. The pricing system is simplified by an easy-to-use license calculator. Regardless of which pricing version you select, Remote Utilities will include a lifetime license with no recurring fees, free minor upgrades and unlimited simultaneous sessions on the same computer (multitasking).
Remote Utilities will run on Windows 7/Vista/XP/2000 and Windows Server 2008/2003, 64-bit included and has no special hardware requirements. A Mac version as well as versions for iOS and Android are currently in the works and will be released soon.