Import from Active Directory + improved File Transfer mode: What is new in the latest Remote Utilities Beta
A new Beta version of Remote Utilities 6.12 has been released, which includes several long-awaited features. Import to RU Server from Active Directory was added, the File Transfer connection mode was significantly improved, and the program interface was adapted for high-resolution monitors among other things.
Import from Active Directory to RU Server
How it used to be
Fetching computers from Active Directory directly into the Viewer (see the figure below) has always been available in Remote Utilities. Up until now this has been the only method of RU/AD integration, and not without its drawbacks.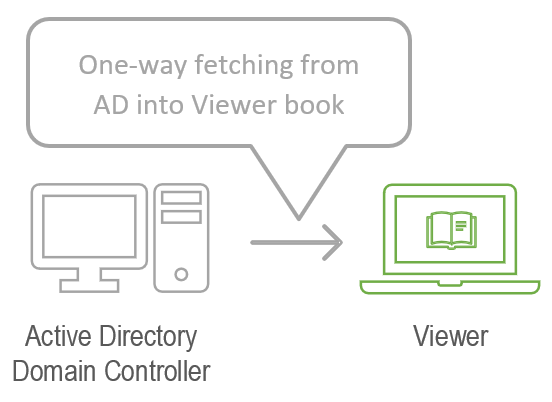 The lack of the imported address book synchronization between several Viewers was the biggest issue. Each administrator had to set up Active Directory integration in their own Viewer.
Besides, the target address book records were not directly editable — there were no connection properties that you could change. You had to "convert" those records into regular address book records with editable properties. This led to unnecessary duplication and management costs.
New AD integration
In this beta release, Active Directory integration has been taken to a new level and written from scratch. The integration is now performed using Remote Utilities Server:
Now the Server is responsible for communicating with the AD domain controller and importing computers into the linked address book on a schedule. You just need to set import schedule and connect RU Server to your domain controller: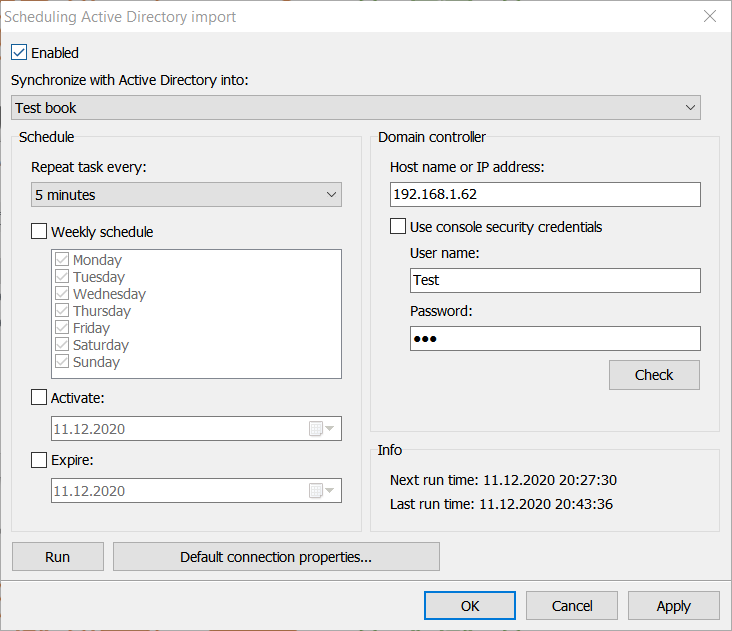 Computers from AD get imported into the designated Server address book according to your schedule:
This book can be synced between multiple Viewers just like any other book — using the address book synchornization feature: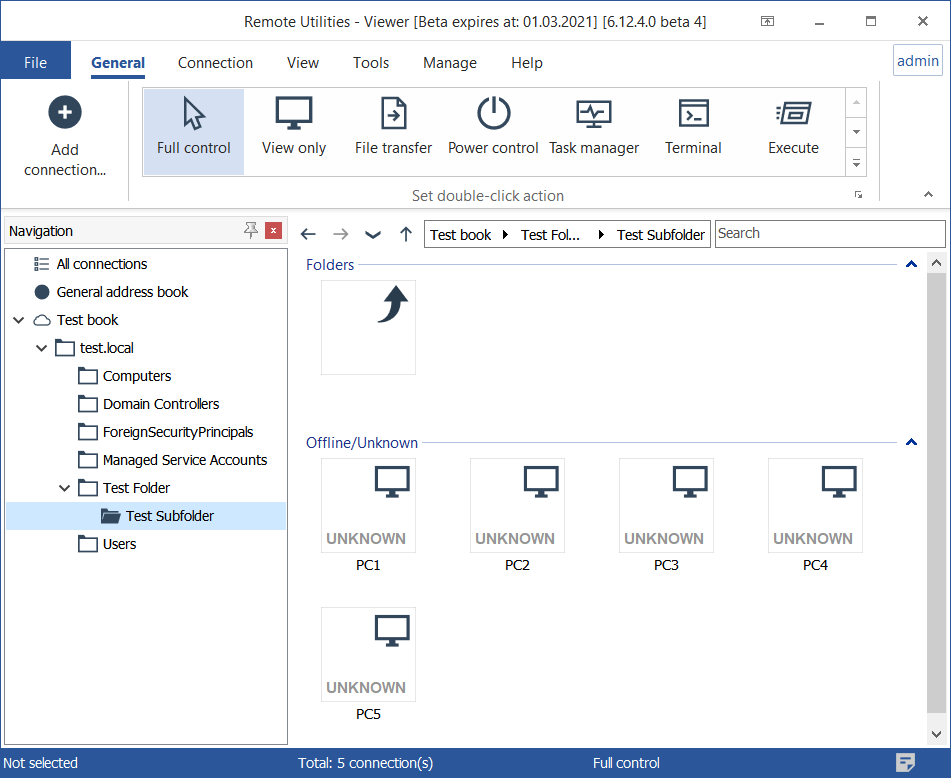 You can even choose to keep your own connection properties for a shared book: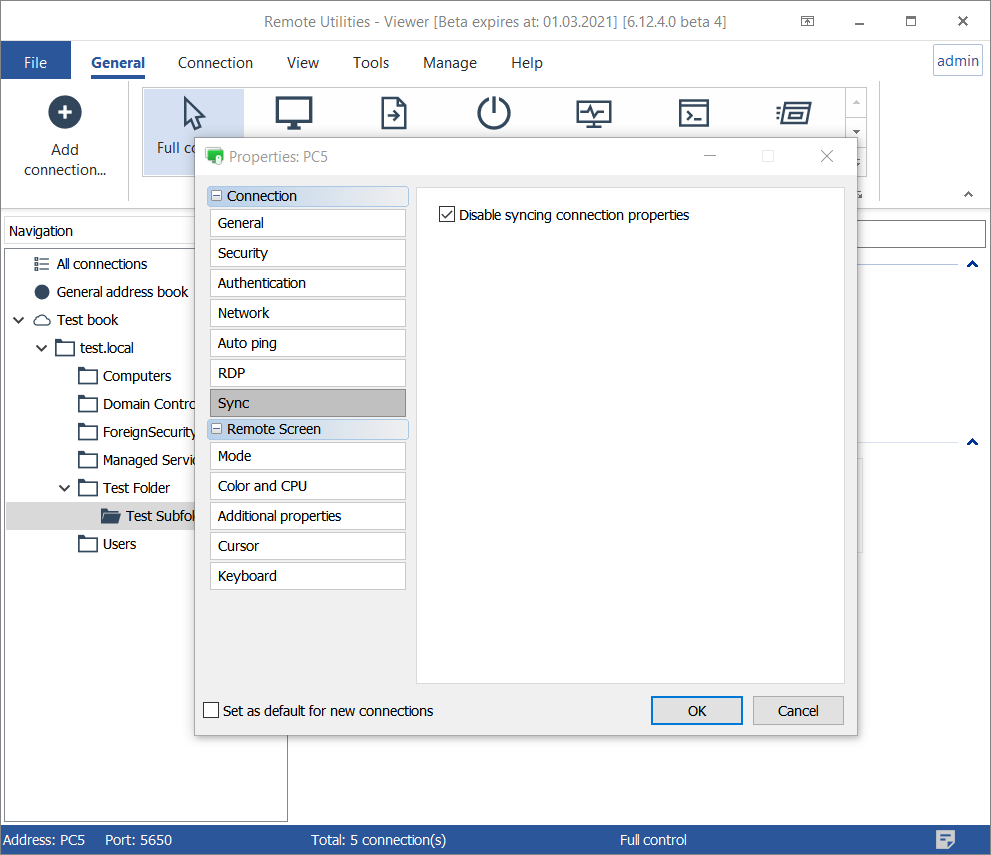 We hope this new feature will help you get the most out of the RU Server, including in the Active Directory environment. And yes, the old Active Directory import feature ("fetch from AD") still works, but now you have a much better alternative.
File Transfer navigation speed
If there was one feature to improve in File Transfer mode, the speed of folder navigation would most certainly be the best candidate. Indeed, in previous versions of Remote Utilities, the speed of such navigation left much to be desired, especially when Internet-ID connection was used. But now it has changed.
The way it was before:
The way it is now:
Please, note that the File Transfer protocol itself has been changed. This means that File Transfer mode will only work when you update both modules — Viewer and Host — to the latest version.
Port manager in RU Server settings
Even though Port Manager was added in beta 2 earlier this year, we thought it was worth shedding some light on how it works.
Port Manager is a dialog window that replaced the previously used port list. In order to run Port Manager, in RU Server Admin Console select File → Server Configuration, navigate to the Communication tab and click Port Manager: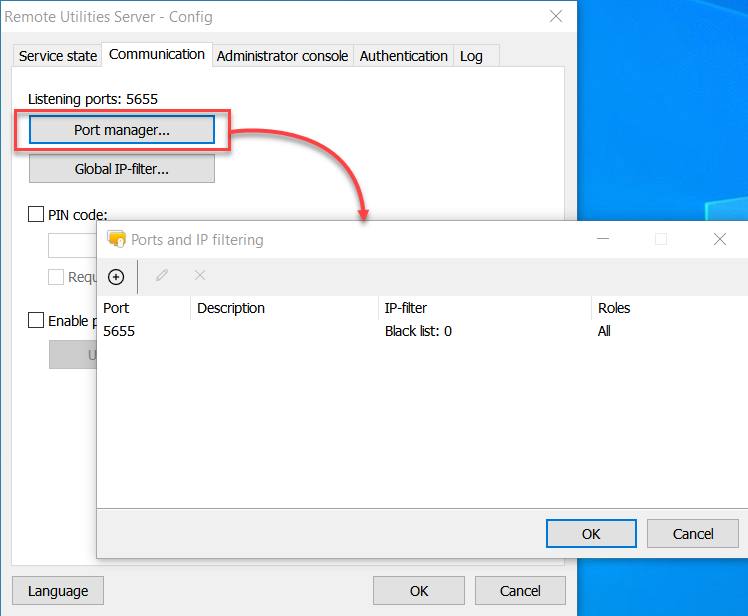 You can add multiple ports. Each port can then be edited by clicking the Edit icon: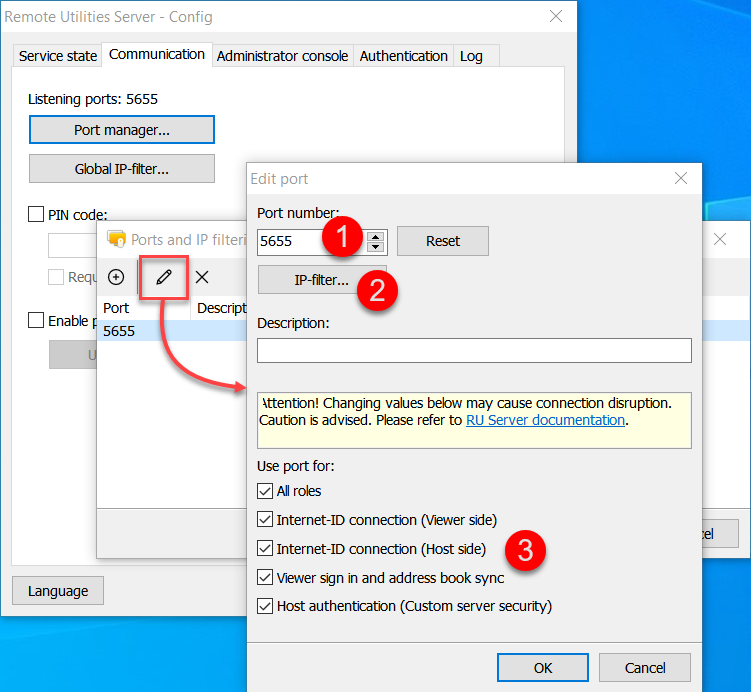 Port number. This is self-explanatory.
IP-Filter. A port-level IP-filter.
Use port for. Here you can select the roles that you want to assign to this port.
Port-level IP Filter vs Global IP Filter
In the new Port Manager an individual IP filter has been added for each port. There is also the global IP filter available on the Communication tab.
Using port-level IP filters is straightforward. You should decide whether you want to use a black list or a white list and then add the desired IP addresses or IP address ranges in the respective tab: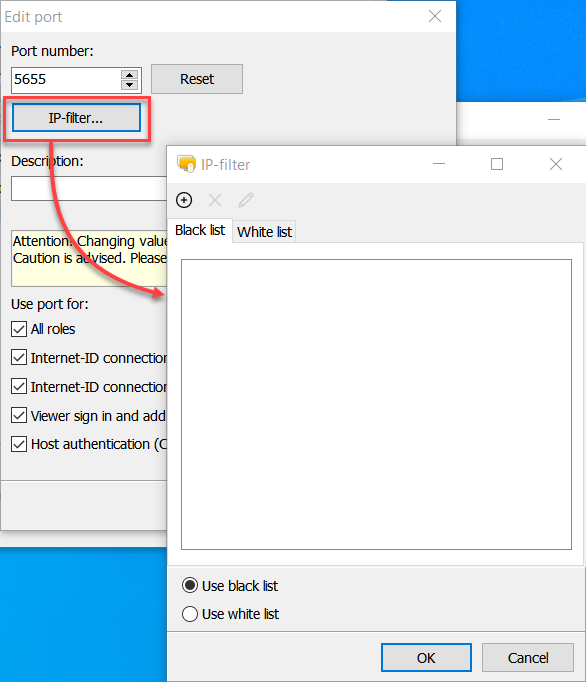 Things are getting a bit more complicated if you decide to use the global IP filter in addition to your port-level filters. In this case you should keep the following rules in mind (the rules apply in the order shown):
Deny (blacklist) rules override allow (whitelist) rules.
Global rules override port-level rules.
For example, if you black list a single IP address in the Global filter and white list the same IP address in a port-level filter, the IP address will be denied/blocked. However, if you white list a single IP address in the Global filter and black list the same IP address in a port-level filter the IP address will still be blocked because a deny rule, though local, still overrides a global allow rule.
Port roles
Each port can be assigned one or more roles from the list below.
Internet-ID connection (Viewer side)
Internet-ID connection (Host side)
Viewer sign in and address book sync
Host authentication (Custom server security)
By selecting these checkboxes you specify which "type of communication" this port should be used for.
For example, you may decide that the port 5655 should only be used for Server ↔ Viewer communication and the port 5656 should be used for Server ↔ Host communication:
The selected roles are also shown in the Port Manager:
In this example Viewer will communicate with RU Server using TCP port 5655 and Host will communicate with RU Server using TCP port 5656.
Why use role separation across ports?
Assigning separate ports for Viewer and Host in combination with setting port-level IP filters gives the system administrator more flexibility and control over Server ↔ Viewer and Server ↔ Host communication.
For instance, a system administrator may decide that any Viewer can communicate with the Server regardless of the Viewer's IP address. At the same time, the system administrator wants to proactively prevent "unwanted" Hosts from communicating with the Server. Such an unwanted Host can be a Host installed by an employee on an office computer without permission for subsequent remote access from outside the corporate network.
No more interface scaling problems on high DPI devices
If you have used Remote Utilities on a high-resolution monitor with high DPI settings (for example, a 2K or 4K monitor), you may have noticed that the program interface does not scale well. Application elements such as menu texts, icons and dialog boxes appeared to be fuzzy and overall program experience was subpar because of that.
In the new beta version, we have fixed this problem. Now all modules of the program, including Viewer, Host and Server should scale well at any resolutions and DPI settings.
Windows event log
In addition to the Host's own log, we have added the ability to log into the Windows system log.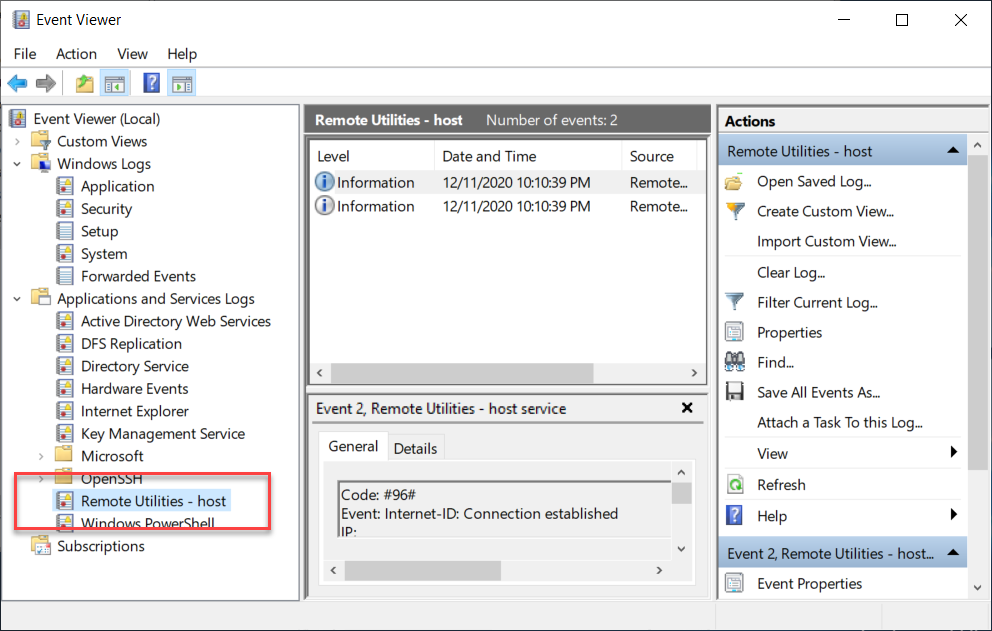 To use this feature, you must first enable it in the Host settings and restart the Host: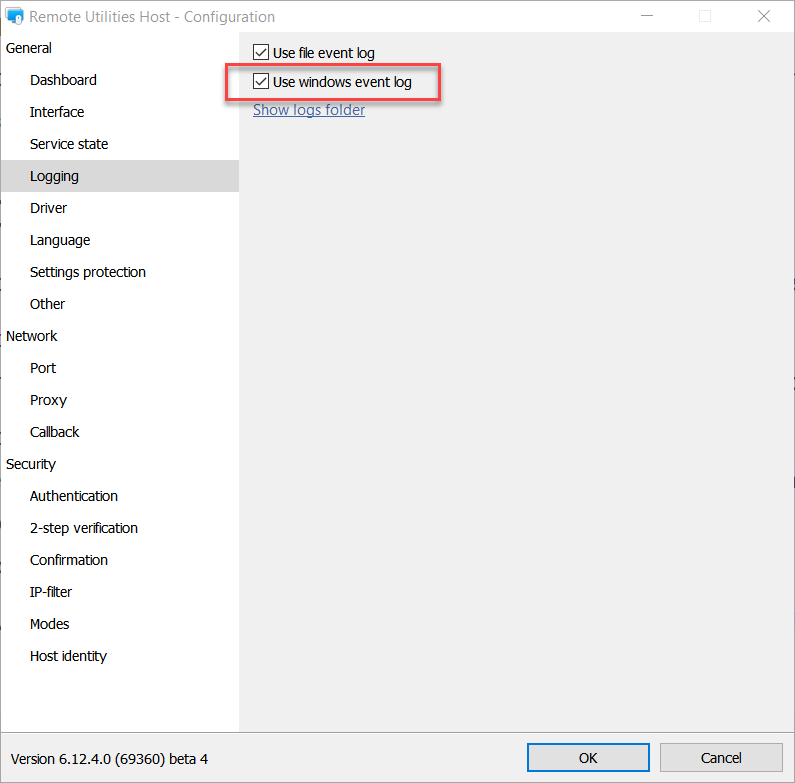 There is the same information recorded in both logs. Enabling Windows event log may be justified if you systematize and collect logs across multiple computers, for example using Active Directory tools.
You can download the latest beta version on this page. Feel free to send your questions and bug reports in this dedicated beta discussion thread.