Remote Support Solution
Provide remote support internally within your corporate LAN and externally over the Internet.
Easy remote access over the Internet
Remote Utilities provides an easy way to establish a remote session over the Internet. You don't need to configure firewalls and routers — just enable the Internet ID connection option and connect to a remote computer using its Internet-ID code: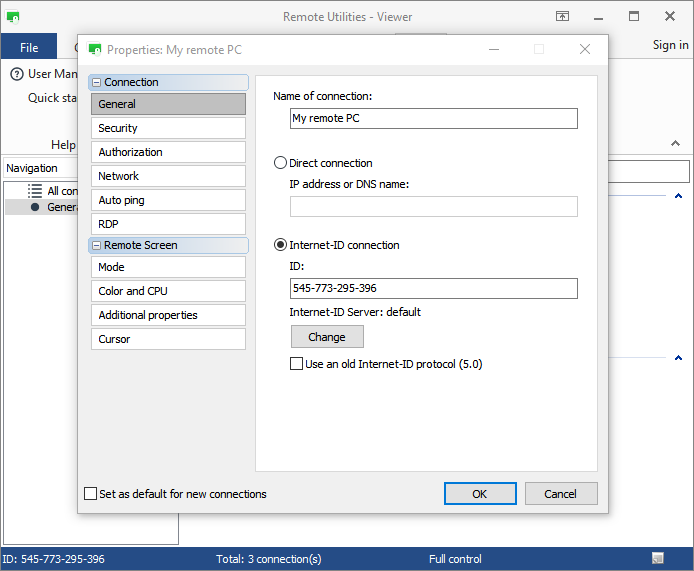 Session chat
Chat with your customers during a remote session — no need to use instant messaging applications or make a phone call. You can use a dedicated chat mode or open a chat panel side by side with your remote session window:
Spontaneous support
For a one-time support session with customers, you don't have to install the persistent client on their PCs. Ask your customer to run the Agent which is a remote client for spontaneous support. Agent runs as an application and doesn't require installation and admin privileges.
When the session is over, customers can delete the Agent from their computers or keep it for future use. If they run it again, you can use the same credentials to access their PC.
Customization and deployment
Remote Utilities has a built-in utility called MSI Configurator that allows you to create a custom pre-configured client module. When it comes to remote support you will most likely use either the One-click installer or the Agent option.
Use the One-click installer option to build a Host package. Distribute your one-click package across your remote clients — when run, the one-click package will install itself automatically.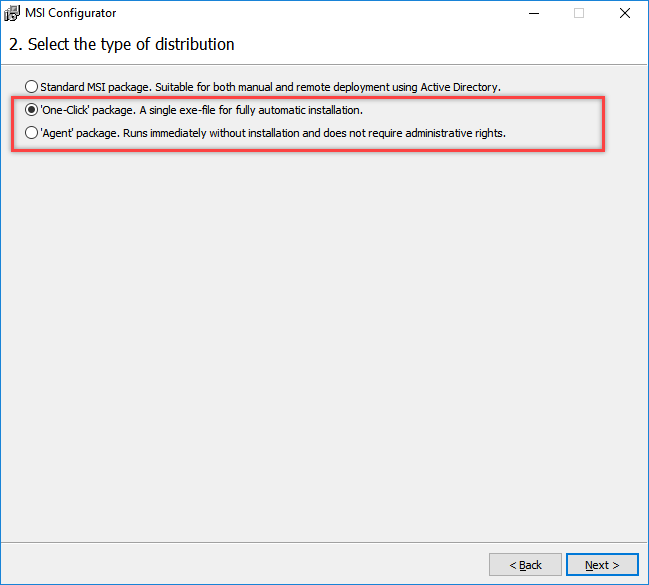 The Agent option allows you to build your custom Agent with the settings you need. In addition, you can add your own logo and welcome text to the Agent window: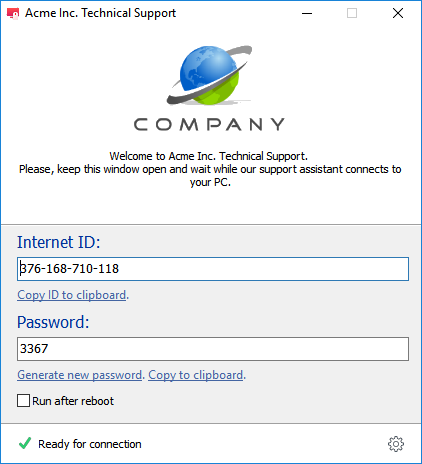 Upload your custom Agent to your website or otherwise distribute it among your remote customers. Whenever you need to connect to a customer's computer, have that customer run the Agent.
Set up sending emails with access credentials
Regardless of whether you use the persistent Host or ad hoc Agent, you can set it to send you an email with access credentials (Internet-ID and password) upon the first installation/run. For that you need to specify your SMTP server credentials in the MSI Configurator during customization: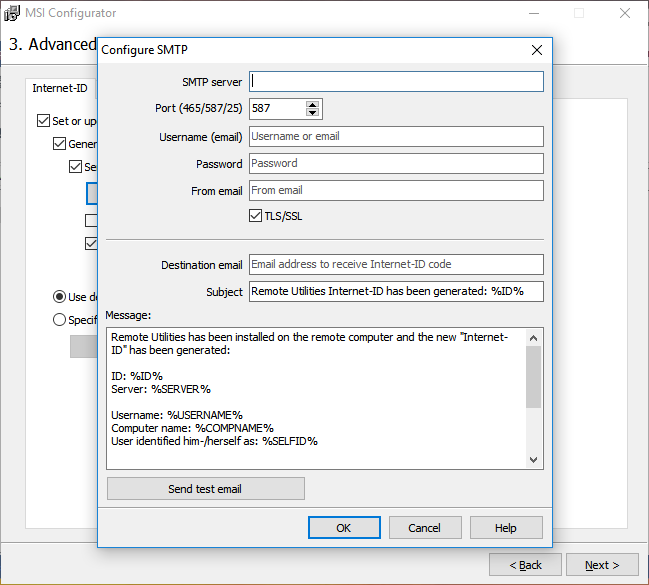 Ask user permission
Sometimes you'd rather avoid interfering with remote users' work so you'd like to ask for their permission to connect to their computer. This is easy to do with Remote Utilities — just enable the Ask user permission feature in the Host settings. When remote session is about to start, the remote user will see the following message:

This feature is best used with the Host module for it can be used for unattended access. The Agent is "attended-only" by design and requires the remote user to run the Agent for a session to be able to start.