Remote Access Solution
Deploy Remote Utilities client across your network and access unattended workstations and servers.
Active Directory integration
Remote Utilities integrates with Active Directory in multiple ways:
When you install the Viewer on a computer in Active Directory, the Viewer automatically fetches and displays the AD tree. You can add more domain controllers to display in the Viewer.

Active Directory PCs shown in the Viewer

You can use domain user credentials to authenticate on a remote Host provided that you enabled Windows security authentication method in the Host settings:

Host security settings
Direct connection
With Remote Utilities you can connect from computer A to computer B without any web server in-between. For example, if both computers reside on the same LAN, simply specify the LAN IP address of the target computer:
Work in restricted or isolated environments
You may have a very strict security policy in your company network with Internet access either restricted or entirely blocked. Remote Utilities is an ideal solution for a LAN-only scenario due to the following reasons:
When Direct connection is selected as connection method, Remote Utilities does NOT use any relay servers. You only need a relay server when you enable the Internet ID connection. In the latter case you can choose between using our company's relay servers or install a self-hosted server of your own.
Remote Utilities does NOT require Internet access for product registration. Registering the program is as simple as adding a plain-text license key in the Viewer's License key storage. There are NO periodic license "checks" or web server calls.
Upgrading the program is always an option, but never an obligation. We provide you with the necessary tools, program installers and documentation but we do not dictate when and if you need to upgrade.
MSI Configuration
Remote Utilities has a built-in utility called MSI Configurator. Use it to customize your Host installer file with the settings that you need the remote Host to have once it is installed. The MSI Configurator has a wizard-like interface — you start from selecting the type of output package you need and proceed through further steps to define your settings.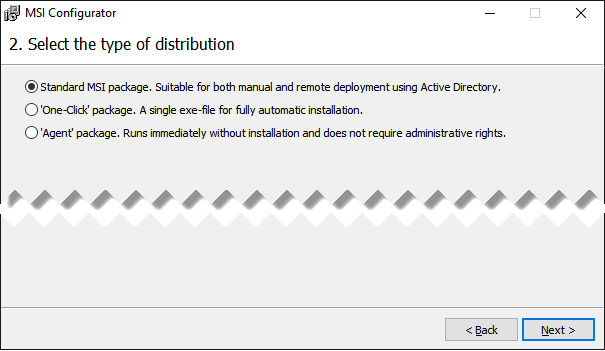 The most appropriate option for deployment in a LAN and Active Directory is Standard MSI. This option allows you to build an .msi installer with all the custom settings that you need. You can further deploy this MSI package in your network either through GPO or other means.
Scalability and deployment
You can push-install the program across your Active Directory computers using AD group policies. Alternatively, you can use the built-in Remote Install tool for remote installation and remote upgrade.
Set access permissions
You can create multiple users and groups with different permissions on the remote Host. For example, with Remote Utilities Security enabled, you can create usernames (accounts), passwords and specify permissions for each account.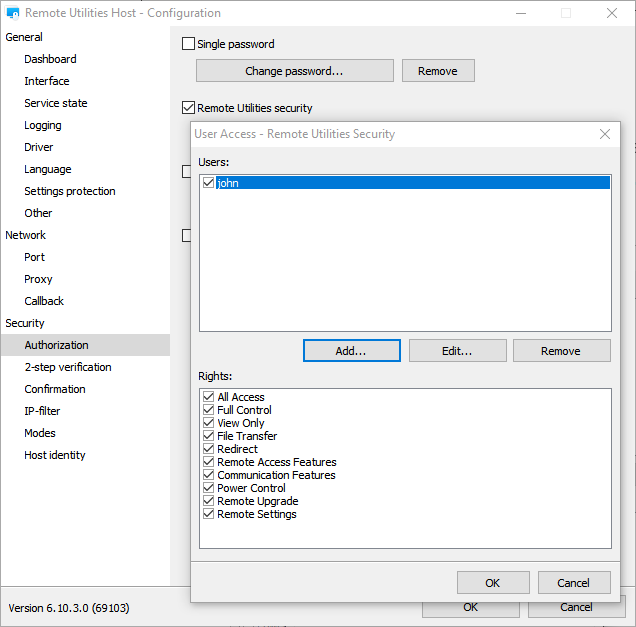 If you choose Windows Security you can piggyback on existing Windows (or domain) users and groups — just select the user or group and set permissions for them: