Per Remote PC
Our per remote PC licensing model allows an unlimited number of concurrent operators to access a set total of remote PCs, allowing you to choose a plan based on how many machines you have to control.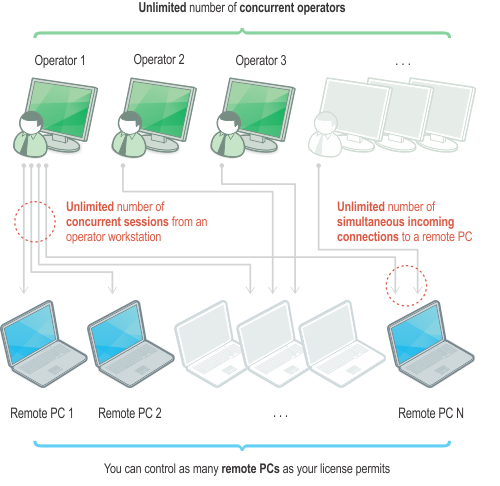 This model is made for companies that have a relatively low number of machines that need to be accessed but a relatively high number of users who need regular access to those machines. This model makes no distinction in licensing between unattended and attended remote PCs.
License terms
The number of end-points (Hosts and Agents) you can remote into is limited to the purchased number of licenses.
The number of concurrent operators is unlimited.
The number of concurrent sessions from an operator workstation is unlimited.
The number of simultaneous incoming connections to a remote PC is unlimited.
You can install the operator module (Viewer) on any number of workstations.
All program features are available.
Possible usage scenario
Let's say that you have a company with around 100 machines to access and control, and a large group of operators that need to access some or all of those machines. You can purchase a 100-PC license and never worry about how many operators will be accessing those remote PCs. And if you find down the road that your number of machines increases, you can simply purchase additional licenses to cover the increase.
Price
Starts at $29.95 per remote PC. Volume discounts available.