Per Operator Mini
Our per operator "mini" licensing model is very similar to our per operator license with one key difference. Just like the standard per operator license, the per operator mini is based on how many operators you need working at the same time. However, the mini license limits the number of remote PCs to 50 and costs half as much as the standard operator license. This allows smaller operations with no need for access to an unlimited number of remote machines to purchase a cost-effective option that perfectly suits their needs, saving hundreds of dollars while covering their entire network!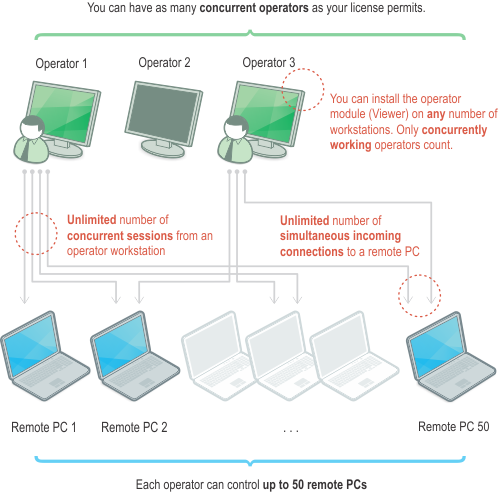 Like our other licensing models, the per operator mini model applies to attended and unattended remote PCs in the same way, and allows an operator to multitask with open multiple sessions, accessing the various PCs on their network.
License terms
The number of concurrent operators is limited to the purchased number of licenses.
The total number of end-points (Hosts and Agents) each operator can remote into is limited to 50.
The number of concurrent sessions from an operator workstation is unlimited.
You can install the operator module (Viewer) on any number of workstations. Only concurrently-working Viewers count against your license.
All program features are available.
Possible usage scenario
Let's say you have five technicians at your company, and the total number of customers they support is never more than 50. You could purchase a per operator mini license key usable for five operators at half the cost of the standard per operator license and save significantly. You can always add more operators in the future by simply purchasing additional licenses.
Price
Starts at $249 per operator. Volume discounts available.