Free License
Our free licensing model is a fully-functional option that's perfect for individuals or businesses with ten or less remote PCs to access. This license is a completely functional alternative to our paid models, including all the great features that make our licensing options so effective.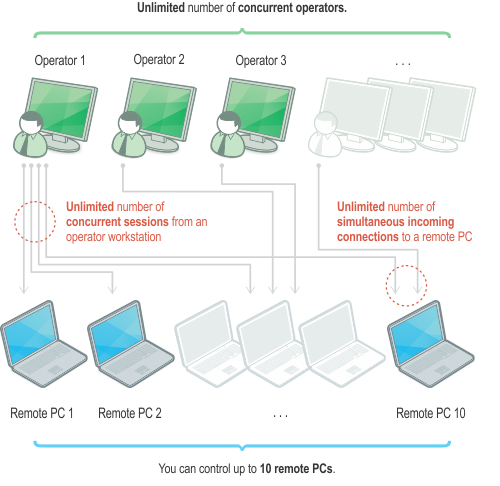 License terms
The number of end-points (Hosts and Agents) you can remote into is limited to 10.
The number of concurrent sessions from an operator workstation is unlimited.
The number of simultaneous incoming connections to a remote PC is unlimited.
You can install the operator module (Viewer) on any number of workstations.
Business and personal use is allowed.
All program features are available.
Possible usage scenario
Even if you already have a paid license, you can still benefit from the free license and save hundreds of dollars in license costs. Let's say you purchased a paid license and support hundreds of remote PCs. However, the owners of those PCs also want to access them using Remote Utilities. In this case, you don't even have to purchase a license for them — they can simply generate their own free license and it will not interfere with your paid license when you connect to same remote PCs.
Please, note that you cannot use a free license key alongside a commercial license key on the same operator workstation. If you need to access more than 10 computers, you must purchase a commercial key and replace your free license key with the commercial one.
No ads
We do NOT make up for our free license by loading it with annoying advertisements or banners. There are no ads and no restrictions on session time, traffic, or features. As with our other licenses, your attended and unattended machines are treated the same, and each PC in your network can have the operator module installed. Our free licensing model is the real deal — just in a smaller package.
How to get a free license key
Follow this guide to generate a free license key and apply it in the program.