Remote Camera connection mode allows you to connect to video capturing devices (a web-camera, a TV tuner card etc.) and audio devices (such as a microphone). You can view video and listen to audio and save/record the data to a file.
Starting Remote Camera mode
Select a connection in the address book
Click Remote Webcam mode on the General tab (the modes panel is expandable):
The Remote Camera window will open:
Click Play ( ) on the toolbar to start capturing the remote image.
Toolbar
The toolbar has the following buttons:
| | |
| --- | --- |
| | Connect - click this button if the connection has been lost and you need to reconnect |
| | Play - start capturing the video |
| | Stop - stop capturing the video |
| | Camera - enable/disable video capture. The minus sign on the button means that the video capturing is disabled |
| | Microphone - enable/disable sound capture. The minus sign on the button means that the sound capturing is disabled |
| | Stretch image - stretch the image to fit the Remote Camera window |
| | Settings - open the mode settings |
Settings
To open the settings click the wrench icon (

) on the Remote Camera window toolbar. The Settings window will open: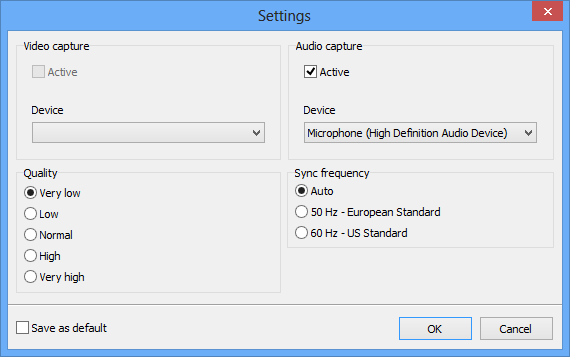 Active - enable/disable video/audio capture
Device - select video/audio device on the remote PC
Quality - video quality from very low to very high (selecting lower quality improves performance)
Sync frequency - sync frequency. 'Auto' is recommended.
Save as default - save the selected options as default for all Remote Camera connections