Version 6.10: Custom SMTP settings
We are happy to announce the release of version 6.10. This version has some major changes to how sending emails is configured in the MSI Configurator. For the complete list of changes please refer to the release notes page.
Starting version 6.10 you can specify your SMTP server settings in the MSI Configurator and therefore use your own email account for sending Internet-ID notification emails to yourself. You may use any type of SMTP server, e.g. a free account such as Gmail or a corporate email account.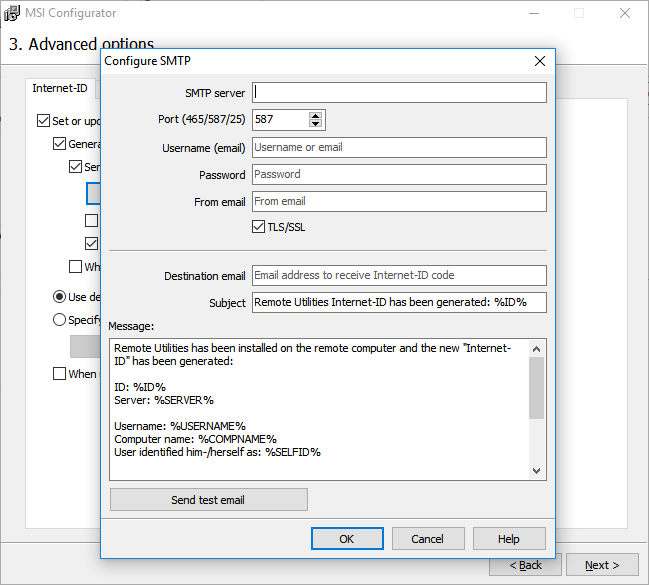 Important
The new SMTP settings feature will replace the old "Send via email" feature that used our company's mailing server.
With the new feature you can edit the message template. For example, you can translate it to your native language or otherwise alter the message. Just don't forget to include the necessary variables (marked "%") in the message.
Questions and answers
Will I be able to send emails through your company's server in version 6.10, as it was used to be in previous versions?
No. Starting from version 6.10 you must use your own SMTP server and specify the SMTP server details during configuration if you want to have your emails sent by the program.
Do you have access to my SMTP server credentials?
When you use the MSI Congifurator's "Online" option your configuration choices are uploaded to our web server and a digitally signed output file is returned. Once the building process is over any related files (which may also contain your SMTP server details) are immediately wiped from our server with no traces left.
Will I still be able to use the "old" send-via-email feature with earlier versions of the program?
Yes, if you are our paid customer. In this case you must whitelist your destination email address — this should only be done once. If your destination email address isn't whitelisted yet, you will automatically receive an email with whitelisting instructions.
If you are a free license user, you should upgrade to version 6.10 where you can specify and use your own SMTP server.
Is it safe to specify my SMTP server details in a custom build?
Due to technology limitations we cannot safeguard your SMTP server details against being extracted from your custom build.
To be on the safe side please follow these recommendations:
Avoid using your primary email address/addresses for this purpose. Instead, create a dedicated email account exclusively for getting such notifications (e.g. use Gmail or other free email hosting service).
Immediately delete the emails from your inbox once you process them. This will guarantee that no one gets access to your emails even if your email account is compromised.
See if your email server supports different passwords for IMAP/POP and SMTP — this way you can protect your inbox even if your SMTP password is compromised. Besides, some corporate systems allow creating a restricted email user account — use that opportunity to your advantage.
Automatic importing of connections directly to your address book
Instead of configuring your custom installer to send you emails, you can take an alternative route and use the "auto-import" feature. This feature requires your setting up of the self-hosted server. When auto-import is enabled, the remote Hosts that register on (connect to) your server get automatically added to your server address book, which is then synced with your Viewer's address book.
In order to use auto-import you need to enable two server roles: address book sync and relay server. Learn more about how to use the self-hosted server.
Join us in the community forum and share your experiences and suggestions.