Mobile update for iOS and Android
It has been a while since we updated our mobile version. During this time we have been accumulating your requests and implemented the most important features.

Here's what's new in the latest mobile client release:

1. Updated start screen. The new selector/menu allows you to not only choose a specific remote PC but also immediately access its connection properties.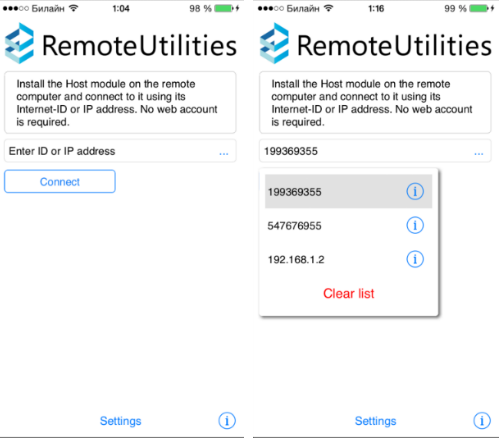 2. Connecting logging. Although this is not noticeable by the user and doesn't affect the work with the app, it's still a very important feature that will let us help you with diagnosing connection issues if any.

3. Sending special keystrokes like, for example, Ctrl+Alt+Del.



4. iOS 8 Support. This is self-explanatory.

5. Ability to connect via a self-hosted server (GMS). As you probably know, Remote Utilities allows you to deploy your own mediation server for ID connection, instead of routing the connection via our servers by default. Now the mobile client is able to connect via your GMS – simply specify the address and port in the settings and you are done.



6. Minor fixes and updates, e.g. performance optimization.

We hope that you'll like the updated mobile Viewer. Feel free to share your thoughts and suggestions on our forum.
Comments
Please, make android host or agent
TeamviewerQS for android working, but i want use RUT version
Thank you for the suggestion. This is on our wish list.
Edit or delete only one of the Internet ID's on the IOS app
How do I edit or delete only one of the Internet ID's on the IOS app? As shown on item '1' at the top of this section, if I have 3 ID's and want to delete only one, I've been unable to do anything except 'clear the list' and then re-enter the two which were I had. There must be an easier way for people who have 8 or 10 computer ID's listed.
Thanks,
Hello Bob,
You are absolutely right - the ID list needs better management capabilities. But we didn't improve it this time simply because we are going to re-design the entire list very soon anyway. We are going to add a full-fledged address book to the mobile client, with folders etc. synchronizable with the desktop Viewer.
Don't hesitate to ask if you have other questions.
Great! Thanks for the quick acknowledgement.