Blog
LogMeIn® Central vs. Remote Utilities
Since LogMeIn® made changes to its LogMeIn Central pricing, we have been receiving a lot of inquires. Users want to know how Remote Utilities compares to LogMeIn Central, and if it's a good replacement.

No two products are identical – every product on the market has its pros, cons and target audience. The purpose of this post is to give you an idea of what to expect from Remote Utilities.

Note, however, that this is not a complete comparison. We highly recommend sending us an email so that we can give you personalized answers to your specific questions.

Disclaimer: In no way do we imply the superiority of one product over the other. All information used in this post was gathered from public sources, namely the official websites of both products. Remote Utilities LLC, the manufacturer of Remote Utilities and the owner of this website and blog, does NOT guarantee that this information is complete or accurate and disclaims all responsibility for any direct, indirect, consequential or incidental damages arising out of the use or misuse of the information contained herein. If you find any mistakes in product descriptions or pricing please contact us at info@remoteutilities.com .



The Basics



LogMeIn Central is currently available in three subscription plans – Basic, Plus and Premier. The number of available features grows from Basic to Premier. To put it very simply, Remote Utilities offers roughly the same features as the LogMeIn Central Plus plan.

There are a few important points to consider:

LogMeIn Central is web-based software. Remote Utilities is stand-alone software – there is no central account on the Internet. The only web service used in Remote Utilities is the "ID server", which is an intermediary for a firewall bypassing connection. You can optionally use your own self-hosted ID server at no charge.
In Remote Utilities you can have your address book (remote connection list) shared among multiple technicians if you install a self-hosted server on your premises. This tutorial explains how to set up address book sync.
LogMeIn Central is subscription-based. You make recurring payments for the service. Remote Utilities requires a one-time payment for the current major version. For more information on upgrades, read our Upgrade Policy.
Remote Utilities is currently available for Windows (Viewer and Host) and iOS/Android (Viewer only). A Mac version is coming in 2015 or early 2016. A Linux version is also in development.
Remote Utilities does NOT work in a web-browser. It uses its own client called the Viewer.
Features in LogMeIn Central may not work in exactly the same way as they do in Remote Utilities, even if they have the same name. This is especially true for features with broad or vague names, like "User management", for example. The two products might have a very different approach to how a certain feature works.




Hub-and-Spoke Setup



We use the term "hub and spoke" for the setup described below. This setup is possible with LogMeIn Central as well as with Remote Utilities (starting version 6.1).

Let's use an example. Suppose you (the "operator") support several organizations, and each organization has from 1-10 workstations. You need to support them all remotely and also let employees/users in each organization access their PCs whenever they want.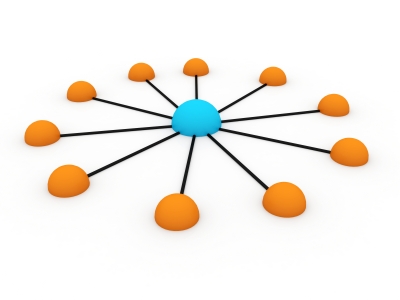 This is known as a mixed environment. To cover this setup with a traditional "per admin" licensing system, you would need to purchase a license for each user (or concurrent user), including yourself, regardless of whether it's a "full time" admin or a casual user.

Remote Utilities provides a solution:

1. Purchase as many operator licenses as there are concurrently working technicians (operators) who need access to all PCs. For example, if you are the only operator, you need a 1 operator license ($499 one-time purchase).

2. Have each organization that you support get their own free license key for 10 remote PCs and distribute it among the employees who need remote access. Or, better still, have each user in each organization get their own free license key. It's as simple as generating a key code on our website.

With an operator license you can connect to an unlimited number of remote Hosts. If there are two operators who work concurrently (even if they connect to different computers from the "pool"), you'll need a second operator license, and so on.

Free license owners can connect to 10 remote PCs or less. Their license, however, allows them unlimited concurrent connections.

There may be a situation when a certain user in your "pool" will need to control more than 10 PCs. Nothing changes for the operator in this case. However, the supported user itself will need to purchase a commercial license for a given number of PCs (i.e. use a "per remote PC" licensing model), because the free license only allows control of up to 10 PCs.



Licensing



Remote Utilities offers two license models – per operator and per remote PC. The difference between them is shown in the table below: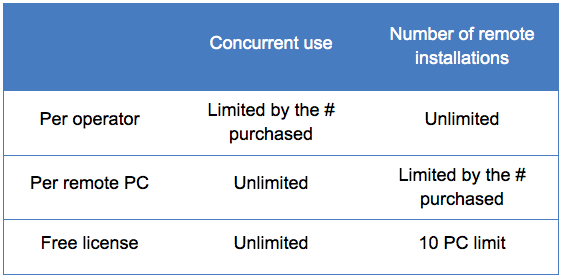 You can find more information and examples on our Licensing page.



Summary



We deliberately focused on the "hub and spoke" setup above because this is what many users migrating from LogMeIn Central are looking for. Now you see that you can implement this setup with Remote Utilities as well.

Still, in each specific situation the price may vary. Here are the questions to ask:


How many concurrent operators do you have?
How many organizations do you support?
How many organizations can get by with the free license?
What is the total number of PCs? (Not relevant for the "per operator" license.)


We hope this post will help you make an informed decision about whether you want to upgrade from LogMeIn Central to Remote Utilities. We will be happy to answer your questions – just send an e-mail to sales@remote-utilities.com.



LogMeIn, LogMeIn Central and LogMeIn logo are registered trademarks or trademarks of LogMeIn Inc. in the United States and other countries. All rights reserved.




Image courtesy of jscreationzs at FreeDigitalPhotos.net
Comments
No comments so far